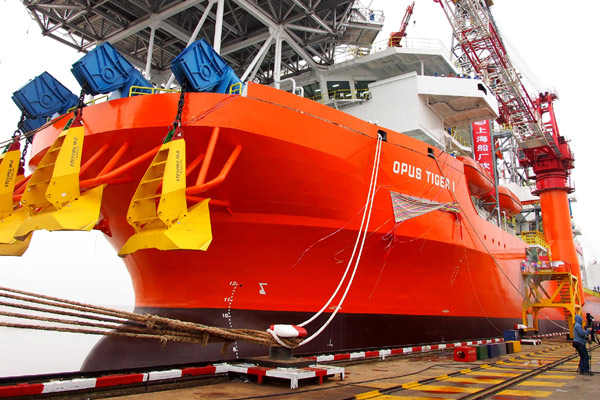 OPUS Tiger 1, China's first self-developed deep-sea drilling vessel, ready for operation in Shanghai. Chinese experts suggest policymakers to increase investment in innovation, which could prove to be an effective strategy to help unleash the country's potential. [Chen Fei / Xinhua] 
China will need to rely on capital exports and investment in innovation to drive growth as foreign trade and the domestic property boom, the main engines of the economy, are losing momentum, a leading economist said on Friday.
The country is entering a phase where it will use capital exports to drive the overseas growth of its infrastructure-related products and services such as railways, utilities and machinery, said Fan Jianping, chief economist at the State Information Center.
The center is affiliated with the National Development and Reform Commission, the top economic planner.
China's desire to seek growth through capital exports is reflected in its new Silk Road plan, which involves $40 billion worth of funding for infrastructure projects in countries along both the land-based and maritime trading routes that connect Asia and Europe.
Such an initiative will in the long run improve China's foreign trade, which has been experiencing slower growth. Foreign trade will "almost certainly" miss the government's growth target of 7.5 percent this year, Fan said.
Outbound investment is likely to reach $1.25 trillion during the next decade, and the country will likely become a net exporter of capital this year for the first time. But Fan said the economy will remain under pressure from slower growth.
He estimated that GDP growth in the last quarter would be about 7.3 percent, which means that China would miss its full-year target of 7.5 percent.
Most economists have trimmed their fourth-quarter growth forecasts after the release of weak October data, although the government has taken many steps to shore up the economy - including the injection of 770 billion yuan ($126 billion) in liquidity into commercial banks.
Fan said a total collapse of the property market is "very unlikely" but cities that have experienced net population outflows will see a sharp correction in housing prices in the coming years.
Most economists have turned pessimistic on China's prospects for next year. Some even warn that GDP growth will dip below the psychologically important level of 7 percent under the weight of tough times in the property market and severe overcapacity in many upstream industries.
Fan suggested that policymakers need to find new engines of growth, noting that investment in innovation could prove to be an effective strategy to help unleash China's potential.