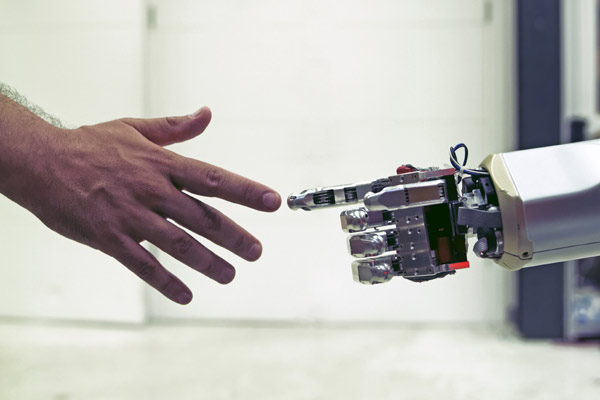 China is already the world's biggest industrial robot market in terms of sales volume, overtaking Japan. More than three quarters of the industrial robots sold in China were made by overseas brands. [Photo/Provided to China Daily]
Cutting-edge innovation vital for long-term success of Chinese firms
Though rising wage costs and growing competition have fueled an explosive growth in China's use of industrial robots, it has been a season of disappointment for domestic firms as they continue to lag overseas manufacturers in the innovation race.
According to experts, with several industries such as manufacturing, logistics and telecommunications turning to robotics, aspects like the right technology and innovation can often be the differentiator between success and failure.

"The industrial robot industry in China is at least a decade behind the West," said Wang Tianmiao, head of the robotic research institute at the Beijing-based Beihang University.
German and Japanese companies already have a head start over others, while companies from the United States are fast catching up with their innovative strides, Wang said.
"The low levels of robot development and the manufacture of key components used in robots, such as decelerators and motors, are hampering growth of 'made-in-China' industrial robots," he said.
More than three quarters of the industrial robots sold in China were made by overseas brands last year, said a report published by the China Robot Industry Alliance.
Welding was the largest application area for imported robots, with their market share standing at 94 percent in this segment last year. Handling operations and the machine tending accounted for about 60 percent of the market, the CRIA said.
According to experts, domestic robot makers will have a bigger say in the market in future as overseas companies, which usually focus on high-end customers including auto-makers, will not be able to cater to the growing demand from other sectors.
Hunan-based Changsha Chaint Robotics Co Ltd is one of the few Chinese companies that make robots for the automobile assembly industry.
Yang Yang, managing director of the company, said he remains optimistic on future prospects due to the growth momentum provided by the fast growing auto industry.
Imported robots used to be the mainstay for most of the automobile companies in China. But with demand surging, many local companies, like Chaint, are getting orders from top-end companies such as the China subsidiary of General Motors, Geely Holding Group and the nation's leading high-speed train maker CSR Co Ltd, Yang said.
The company is expected to post annual sales volume of more than 200 million yuan ($327,869) this year, compared with an annual turnover of 160 million yuan in 2013.