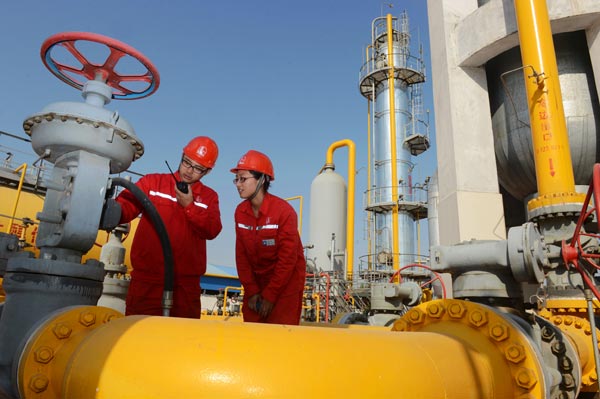 Sinopec workers inspect a natural gas facility in Puyang, Henan province. [Photo/China Daily]
The wholesale price of natural gas for industrial users will rise 20 percent on Sept 1, signaling that China is accelerating market-oriented pricing reform despite a slowing economy.
The price will increase by 0.4 yuan (0.065 cents) per cubic meter, resulting in an average price of 2.35 yuan to end-users.
It will be the first hike since July 2013, when the National Development and Reform Commission announced a 15.4 percent increase.
Residential prices are not affected this time, so the move will not have much effect on the consumer price index, officials of the NDRC's price department told reporters in Beijing on Tuesday.
Industrial and commercial use of natural gas accounted for 80 percent of the total in 2012. The fuel is widely used to generate electricity and for industrial processes in the ceramics, glass, steel and nonferrous metals sectors.
Fertilizer makers are exempt from the price hike for now, because these struggling companies have a significant role in agriculture.
"Undoubtedly, the increase will drive up manufacturers' costs, and the effect will be a gradual shift to a more balanced use of natural gas among various sectors," said Chi Guojing, secretary-general of the Gas Association.
"Gas supplies won't be a concern this winter. Any shortages involve low-priced gas, not supply as a whole," said Chi.
The NDRC created two pricing tiers last year. One was for existing supply to each province on the basis of 2012 consumption, while the other was for incremental supplies in 2013. The average difference between the two bands was more than 40 percent, according to experts.
The government is sticking to its goal of deregulating the gas market even amid the economic downturn, indicating a commitment to price reform, said Jiang Runyu, a researcher at the Macroeconomic Research Institute at the NDRC.
The two-tier mechanism erased most of the losses on imported pipeline gas and liquefied natural gas and also protected downstream users.
Prices for the lower tier will gradually rise and the tiers will converge by 2015, said the NDRC.
"The goal is to create a fully market-oriented gas market and make full use of both the domestic and international markets, to achieve the goal of ensuring supply," said Jiang.
China's gas demand is expected to reach 206.1 billion cubic meters this year, with a supply gap of 13.6 bcm, according to China National Petroleum Corp.