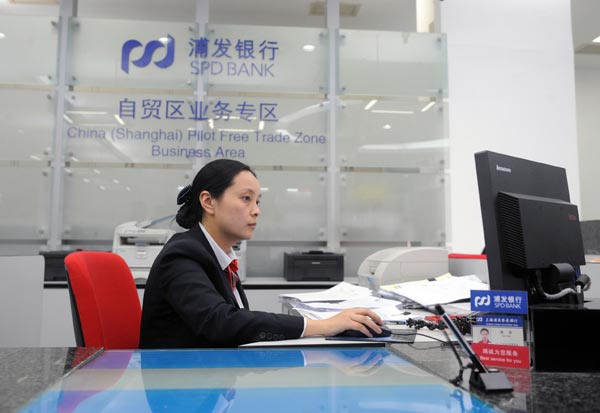 An employee handles a transaction at an SPD Bank Co Ltd branch in Shanghai. Banks in Shanghai can offer deposit rates on their own for corporate foreign-currency accounts with balances below $3 million. Provided to China Daily
Expansion of trial program from free trade zone in Shanghai could go nationwide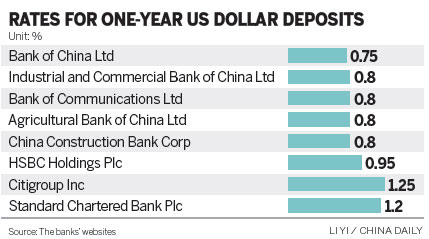 Interest-rate ceilings on corporate foreign-currency accounts with balances below $3 million will end on Friday throughout Shanghai, part of a key reform expected to be expanded nationwide, it was announced on Thursday.
The policy, which has already been tried out in the China (Shanghai) Pilot Free Trade Zone, is a major step in interest rate liberalization, the People's Bank of China's Shanghai Head Office said.
The rate ceiling for foreign-currency deposits is now 1.5 percent for current accounts.
The balance of foreign-currency deposits in Shanghai is estimated at $76.7 billion, of which 26.4 percent would be covered by the change. Foreign-currency deposits in Shanghai account for about 14.3 percent of the national total.
China liberalized lending and deposit rates, from 2000, for accounts holding more than $3 million.
Pan Yuehan, head of the Shanghai branch of Bank of China Ltd, said removing the rate cap will enhance banks' management of corporate capital and enhance their market competitiveness.
"The move will also prepare banks for renminbi interest rate liberalization," he said.
Dariusz Kowalczyk, senior economist at Credit Agricole SA in Hong Kong, said the removal of the deposit caps "will increase hopes for raising the cap on yuan deposits in coming months. This in turn would lead to higher rates throughout the economy".