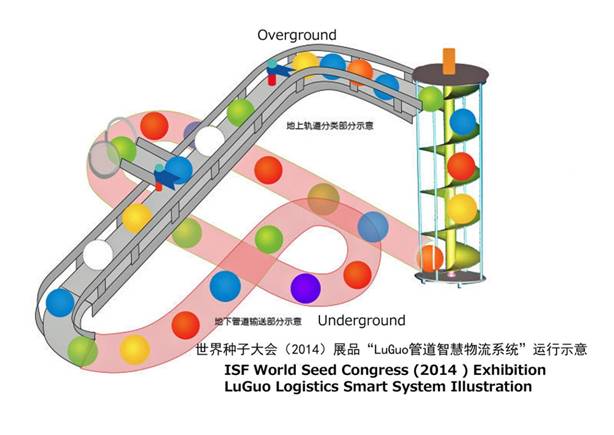 At ISF World Seed Congress 2014, A set of eye-catching system for seeds transportation and classification attracts reporters' attention: balls loaded with seeds flow by gravity in inclined tracks, enter different distribution ports automatically and arrive at designated locations. Well-designed balls are easy to open and close, and seeds are well protected inside with an internal compression-resistant and anti-collision package.
'LuGuo Conveying and Classification Storage Smart System for Seeds' is a new application of 'LuGuo Pipe Logistics Smart System' in the field of seeds industry, and is China's most recent innovative logistic system, with complete intellectual property rights, reserved by the GJR Investment Fund Management (Beijing) Co Ltd. Chinese Academy of Sciences Institute of Automation was involved in its design and supervision.
'LuGuo System' is actually an end-user solution for 'The Last Mile' of urban logistics nightmares. Its overground-track logistics can be smoothly linked up with underground-track logistics. The system is also a dual system with joint operations designed by overground and underground formations. It can save 90% energy compared to traditional logistics, with the concept of 'automatic distribution, precise shunting, and direct delivery to destination', which made a breakthrough in the dilemma of 'The Last Mile' urban logistics in the world.
According to reports, France loses 5.7 billion Euros, UK 4.3 billion Pounds, and the USA $121 billion, each year in traffic jams. Although China lacks the above statistics, according to CCTV, of Beijing's 200 million tons per year urban freight transportation, 70% to 80% is involved in 'illegal maneuvers' in order to get to Beijing. Efforts on underground-pipe logistics to solve the above chronic problems have been made, for many years, by several countries, but it all got stalled due to high commercial operation costs.
Underground 'LuGuo System' is constructed by the use of advanced pipe-jacking and trenchless technology. Construction will take only 15 days per kilometer, with 90-cm-diameter pipes, cost only about 2 million RMB. Take Beijing as an example, its daily trash collection and transportation of 20,000 tons requires 4,000 drivers and assistants. Their annual salaries combined can pave 500 kilometers LuGuo System pipe network, and would basically solve the city's trash classification, and long distance transportation issues. The system can last for 100 years.
At the exhibition hall, LuGuo system engineers demonstrated how to use the system to transport live fish, eggs, wine bottles, and porcelains to customers' destinations. Visitors were impressed and applauded at the end of demonstration.
'LuGuo System' can save 90% energy compared to traditional logistics, without vehicle exhaust, noise, pollution, dust and PM2.5 effects, and has a positive value of haze prevention. It is also a good low-cost solution for urban living through extended implementation, like transporting goods to downtown, express delivery to home, garbage classification, etc. This will greatly improve human lives in cities and produce enormous economic and social benefits.