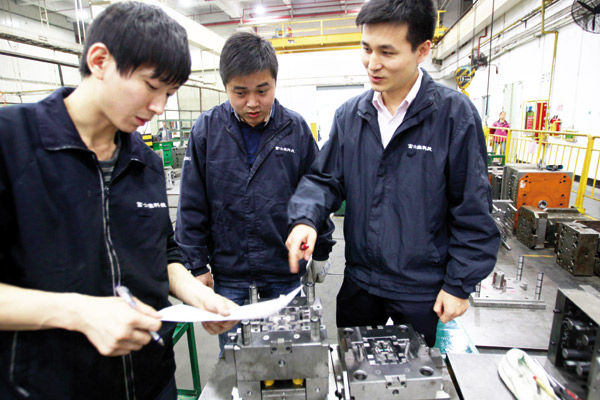 Li Guizhen (right) oversees mold production inside Foxconn factory. Zou Zhongpin / China Daily
And the latest figures from China's National Bureau of Statistics show those lives are changing dramatically.
Nothing gleams in building E5, an open hangar-like space with concrete floors. This is not one of the massive production lines where workers assemble shiny finished products for Apple, HP, Nokia, IBM, Samsung, Amazon, Sony and Dell.
Much of the work here is done with tools, by hand. Suggested in the shapes of casts and molds is the secretive anatomy of the world's smart phones and tablets.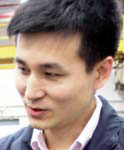 Li Guizhen
Li Guizhen, 32, watches over a row of silent women in pink jackets. They delicately pick at components with tiny implements.
Like the vast majority of Foxconn employees, Li is a migrant worker, one of almost 269 million men and women in China who have left their hometown temporarily or permanently to work in the nation's cities and manufacturing centers.
A devout Muslim and father of two, Li is about 3,000 kilometers from the farm in Xinjiang where he grew up. Beyond geography, the distance can be measured in years and money and lifestyle, a journey from poverty to the doorstep of China's burgeoning middle class.
"When I was a little kid my father was a farmer and we were very poor," Li says. Now, as a manager in the mold-making production area, he earns more in two months than his father made in an entire year as a farmer.

Jiang Caixia
In another part of the compound, somewhere on the factory line, 21-year-old Jiang Caixia dutifully checks the backs of iPhones for scratches. "I check about 260 per hour, she says. "I check more than 2,000 phones per day."
Sometimes when Jiang has finished an eight or 10-hour shift and is watching TV, the young migrant worker from Jiangxi province sees the things she has made, in countries she has never been to, used by people she has never met, who know nothing about how her life intersected briefly with pieces of their everyday world.
"When I look at other people using iPhones, I think to myself, I probably made that one."
Jiang is an avid fan of South Korean TV dramas. She loves reading. She misses her aging parents, but says her life was "going nowhere" back home. The best she could have hoped for was a job in a supermarket.
Turn the clock forward a decade or so, and Jiang might be Sun Xiaoji, the woman sitting next to her outside the "Foxconn Cafe".