Taxing Internet sales - a burden too far for some?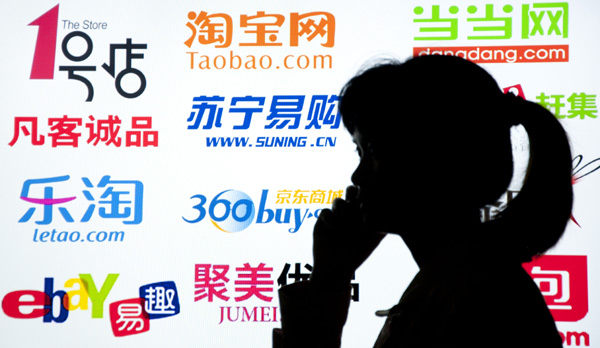 China is expected to overtake the United States to become the world's biggest e-commerce market by 2015. [Photo / Provided to China Daily]
A sales tax for Internet purchases in China is on the horizon. The latest signal came from Yao Jian, the spokesman for the Ministry of Commerce. He said in early June the ministry was involving various parties in compiling an "E-commerce Promotion Act".
China's online retail transaction volume reached 1.3 trillion yuan ($212 billion) last year, Yao revealed. Related government departments are conducting research into the possibility of setting up an online retail tax, he added.
The debate on whether China should levy taxes on Internet retailers began in March when Zhang Jindong, chairman of Suning Appliance Co Ltd, the country's biggest electronics chain store operator, made an online sales tax proposal to the Chinese authorities.
The topic was raised because of a conflict of interest between traditional brick and mortar shops and online vendors, who have lower overheads. But a more persuasive point is that China's e-commerce industry has grown so fast. Its massive volume and potential for even more development has attracted attention.
On the other side of the Pacific Ocean, the cash-strapped US government sees no alternative to demanding taxes from deep-pocketed e-commerce giants. Under the Marketplace Fairness Act, retailers with at least $1 million in annual sales outside their home states would need to collect sales tax from their customers wherever they reside.
China is expected to overtake the United States to become the world's biggest e-commerce market by 2015. But is there a need to rush into catching up with the United States and set up a similar Internet sales tax? Are there any specific circumstances to be further discussed, or any particular considerations to be made before China makes such a move?
There is no doubt that China will have to enact an Internet sales tax in the future. The move will eliminate unfair tax burdens on different business models and different industries. In addition, it will prevent enterprises from using online channels to evade tax obligations.
Statistics show there are about 6.4 million online merchants on Taobao.com, China's largest customer-to-customer e-commerce website. However, among them, about 95 percent had monthly sales of less than 20,000 yuan.
That indicates most Taobao vendors are small-sized mom-and-pop businesses. The Internet sales taxes should include an exception for small businesses. Why? Because the added burden would hurt their ability to grow or create jobs.
Usually, people choose to go shopping on the Internet because they can find goods at cheaper prices - about 7 percent to 16 percent lower than those in physical stores on average. An Internet sales tax would certainly lift online merchants' costs. That would result in less competition in prices and services that have so far been creating value for customers.
China is a global manufacturing hub. But the country is facing an uncertain economic outlook and a rising currency value. Both these factors increase risks for online small businesses, especially those who sell products abroad. Therefore, a tax rebate in certain circumstances should be considered when authorities draft the bill.