Nation's already-fragile figures to be dented, leading think tank warns
Chinese manufacturers are likely to face growing trade protectionism around the world, which will dent the country's already fragile export figures, a leading think tank warned on Friday.
Despite some figures suggesting that export activity has started to pick up in recent months, Wei Jianguo, vice-chairman and secretary-general of the China Center for International Economic Exchanges, predicted the country's export performance will be "even worse" than last year.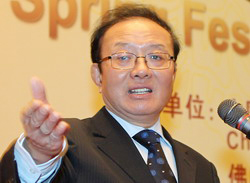 Wei Jianguo, vice-chairman of the China Center for International Economic Exchanges 
Also a former vice-minister of commerce, Wei said China planned to launch further measures, including increasing tax rebates and reducing relevant fees and logistics costs, as part of a strategy to stabilize its export levels.
Due to the weaker global export environment, China should "push forward with its urbanization process and expand domestic consumption" to drive up economic growth, which Wei predicted will slow further this year to 7.5 percent, from last year's 7.8 percent.
Latest statistics from the General Administration of Customs show that China's foreign trade in 2012 grew by 6.2 percent year-on-year to $3.86 trillion, lower than the 10 percent target set at the beginning of last year, which it blamed on the grim economic situation in the debt-stricken eurozone, and wavering global economic recovery.
Both exports and imports recorded their lowest growth rates in a decade, with the exception of 2009.
"This year, China's exports will not be better than previous years. In fact, they will be worse, as the European debt problems remain in limbo, and continuation of quantitative easing in the US remains a potential threat to China's shipments," said Wei, who is also a guest economist for China Daily.
On Wednesday, the International Monetary Fund downgraded its global growth forecast for 2013 and 2014 by 0.1 percentage points, citing a weaker outlook for the eurozone.
Both Customs and the Ministry of Commerce predicted in early January that "China expects this year's foreign trade to be better", although they conceded market conditions will remain "severe".
Besides the tough external influences, Wei attributed his expectations of weakening exports on "the remarkable growth in trade cases against China from both developed and emerging markets" and the "rising yuan".
"What China's manufacturers, and the small and medium-sized enterprises in particular, fear most are trade remedy cases and currency appreciation," he said.