Trade target failed
China's foreign trade in 2012 expanded 6.2 percent year-on-year to $3.867 trillion, missing the government's 10-percent annual target.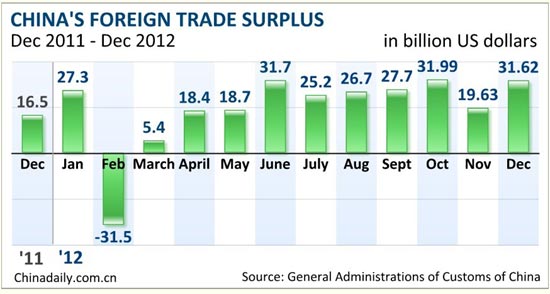 The country's exports and imports volume totaled $3.87 trillion last year, and growth slowed sharply from the 22.5-percent rise registered in 2011.
Exports throughout 2012 rose by 7.9 percent year-on-year while imports increased by 4.3 percent, yielding a trade surplus of $231.1 billion, up 48 percent from a year earlier, according to the General Administration of Customs.
>>>Read More
Victim of anti-dumping investigation
China was the world's biggest victim of anti-dumping investigations every year from 1995 to 2011, and also the most targeted in anti-subsidy investigations yearly from 2006 to 2011, according to the Ministry of Commerce. Trade remedy investigations targeting China totaled 758 from 2003 to September of 2012 with export value of $68.4 billion.
In 2012 alone, China had received 53 trade remedy investigations by the end of November affecting exports of $24.2 billion, seven times the amount in 2011, according to the Commerce Ministry.
The figure was 69 in 2011 with export value of $5.9 billion and 66 in 2010 with export value of $7.14 billion, according to the ministry.
>>>Read More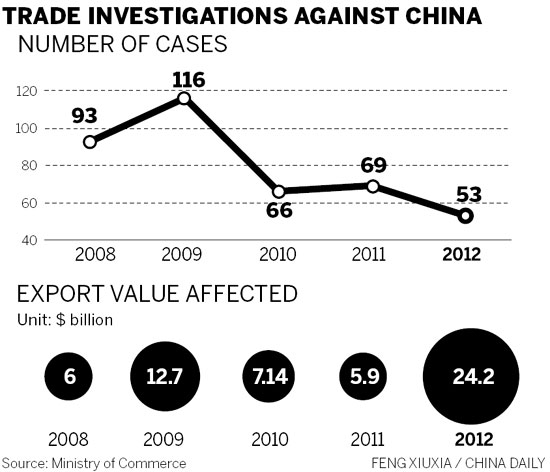 Hardest-hit sector
China's solar export value will be around 13 billion yuan ($2.08 billion) in 2012, down 40 percent from a year earlier, due to the US and EU's anti-dumping measures, according to China Photovoltaic Industry Alliance.
>>>Read More