BEIJING - Bullish trade data from China indicate that its growth is stabilizing, with analysts predicting that its stability will help to boost global economic growth.
The annual growth of China's foreign trade slowed to 6.2 percent amid global economic woes, the General Administration of Customs said on Thursday.
Although the figure was considerably less than the 10-percent target set by the government at the start of 2012, it was still more than that of other leading economies. Recent figures showed that EU trade dropped 2.1 percent year-on-year in the first ten months of 2012, while US trade gained just 4.2 percent year-on-year.
Although the full-year figures for many countries have yet to be released, China is expected to be among the top performers in terms of foreign trade.
Domestic demand up
In 2012, exports rose 7.9 percent from the previous year, lower than the year-on-year hike of 20.3 percent in 2011. Imports climbed 4.3 percent in 2012, down from a rise of 24.9 percent in 2011, according to the GAC.
Imports of consumer goods rose 12.7 percent and imports of energy and resources both soared 10.5 percent year-on-year in 2012.
Automobile imports posted steady growth, with 1.05 million vehicles shipped to China in the first 11 months of 2012, up 13.1 percent year-on-year, the China Association of Automobile Manufacturers said on Friday.
Relatively steady commodity imports indicated that government efforts to boost domestic demand have taken effect. Foreign trade in China's central and western regions was particularly active during the past year, official data showed.
The government has vowed to enhance the quality and efficiency of economic growth in 2013, according to a central economic work conference held in December.
Officials made a resolution to improve the quality of urbanization and to unleash the potential of domestic demand.
Increased urbanization will encourage more people to move from rural areas to urban ones, creating more opportunities for investment and stimulating consumption, Xu Hongcai, deputy head of the Department of Information under the China Center for International Economic Exchanges, was quoted as saying in a Friday report in the overseas edition of the People's Daily.
"This is a chance for China and for the world," Xu was quoted as saying.
Special Coverage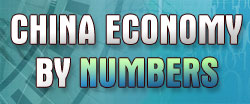 Related Readings
China's foreign trade grew 6.2% in 2012

Foreign trade to fare better in 2013: minister

Economic slowdown bites China's employment

China's slowdown 'beneficial': Expert