Starbucks Coffee Company announced the launch of Starbucks China University on Monday in Beijing to meet the rising talent demand in its second largest global market.
The Starbucks China University will offer training curriculums that encompass areas and functions of the Starbucks China business, including coffee knowledge and culture training, and provide tailor-designed curriculums in retail and related training as well as leadership competency on both digital and mobile platforms.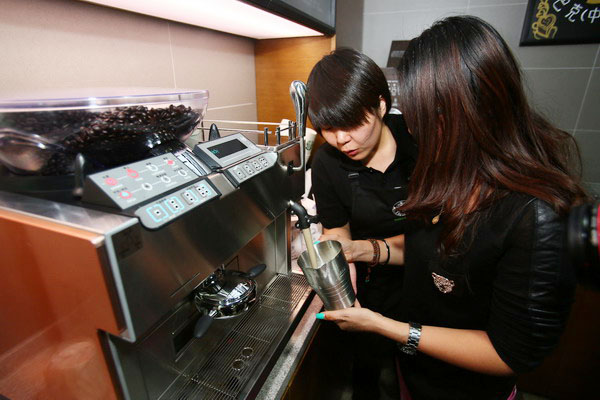 A customer learns to make coffee under the instruction of a Starbucks employee at the Starbucks China University in Beijing, Nov 26, 2012. [Photo/chinadaily.com.cn]
At the same time, the university will be implementing a "partner professors" initiative. This will be made up of experienced professionals from store partners to senior management executives who possess deep coffee knowledge, practical business retail expertise and business management skills.
"Our partners are at the heart and soul of our signature Starbucks experience and also the cornerstone of Starbucks success. It is therefore critical that Starbucks continues to invest in their development, share with them the company's success and set them up for future growth and development," said Belinda Wong, president of Starbucks China. "These investments are critical as we work to achieve our ambitious goals and future aspirations in China."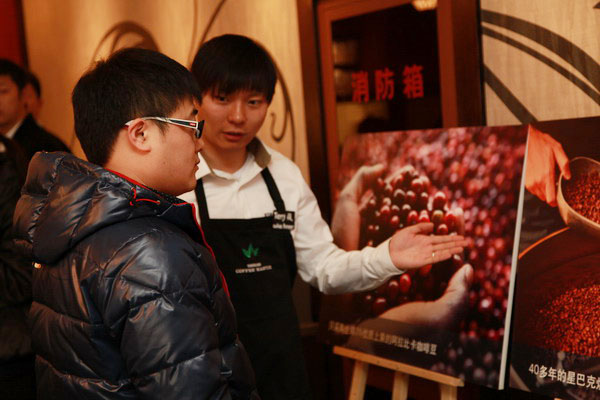 A Starbucks barista introduces coffee culture to a customer at the Starbucks China University in Beijing, Nov 26, 2012. [Photo/chinadaily.com.cn] 
The Seattle-based coffee chain currently operates more than 700 stores across more than 50 cities in China. The company said China will be its second largest market by 2014 and will have 1,500 stores by 2015 across more than 70 Chinese cities.
liwoke@chinadaily.com.cn