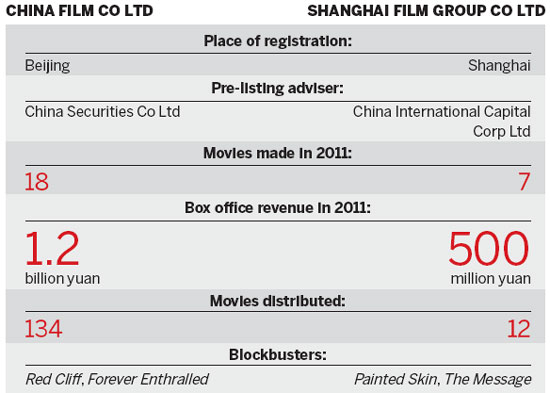 Two State-owned film conglomerates have entered the final preparation period before launching planned initial public offerings, according to the China Securities Regulatory Commission.
The companies are China Film Co Ltd and Shanghai Film Group Co Ltd, both of which plan to be listed on the Shanghai Stock Exchange, according to an announcement from the commission.
China Film Co plans to use the money it raises from its proposed IPO to build movie theaters, said Shen Zheyan, a cultural industry consultant with the Shenzhen-based CIC Industry Research Center.
The company now has a controlling share or smaller stake in six cinema chains, includingShenzhen China Film South Cinema Circuit Co Ltd and China Film Stellar Theater Chain Co Ltd, which account for about 40 percent of the country's total box-office receipts, Shen said.
Shanghai Film, in contrast, is likely to use the capital it raises in a more general way, putting it into film distribution, production, media and technology, Shen said.
China Film Stellar, one of the six cinema chains China Film Co has invested in, operated 197 cinemas and generated 1.38 billion yuan ($219 million) from ticket sales in 2011. That amount constituted 10.5 percent of the box-office receipts collected that year in China, according to figures compiled by EntGroup Consulting, a Beijing-based entertainment industry consultancy.
China Film was established by China Film Group Corp, the largest State-owned film conglomerate in the country, and seven other enterprises in 2010. Among the other founders were CNR Media Group and Hunan TV & Broadcast Intermediary Co Ltd. China Film Group has a 93 percent stake in the company, and the other seven companies each hold a 1 percent share.
In 2011, China Film invested in 18 films and exclusively oversaw or participated in the distribution of 134 films, including imported productions. In the same year, Shanghai Film Group invested in seven films and was involved in the distribution of 12, according to EntGroup's figures.
The two conglomerates' planned IPOs will have a significant effect on the film industry, insiders and analysts said. EntGroup estimated China Film Co generated between 2.8 billion and 3.2 billion yuan in revenue in 2011, while Huayi Brothers Media Group, the first private film company to be listed on the Chinese mainland, reported 892.4 million yuan in revenue for 2011.
Shanghai Film had 2 billion yuan in revenue last year and a net profit of 194 million yuan. Huayi reported a higher net profit for the same year, saying its figure was 202.9 million yuan.
Media outlets have quoted analysts as saying that Shanghai Film's IPO will help it obtain a license to distribute foreign films in China, the world's fastest-growing movie market. Only two companies now have those distribution rights: China Film Group and Huaxia Film Distribution Co Ltd, both of which are State-owned.
Liu Cuiping, an analyst from EntGroup Consulting, said the government may want to give private companies a boost by granting the next distribution license to one of them.
"If it were to go to Shanghai Film, that wouldn't change the essential points of the big picture," she said.
After completing their proposed IPOs, China Film Co and Shanghai Film Group may find they don't have many advantages over other privately listed film companies, said Chen Shaofeng, deputy dean of Peking University's institute for cultural industries.
Still, they are more likely to benefit from government's policies, many of which are made out of consideration for State-owned enterprises, Chen said.
The film industry in China is subject to more market forces than many of the country's other media and cultural industries.
By October, 13.2 billion yuan in box-office revenue had been raised in the country, an amount up 40 percent year-on-year. For the whole year, the figure is expected to exceed 16 billion yuan, up from 13.1 billion yuan in 2011, according to the State Administration of Radio, Film and Television.
huangying@chinadaily.com.cn