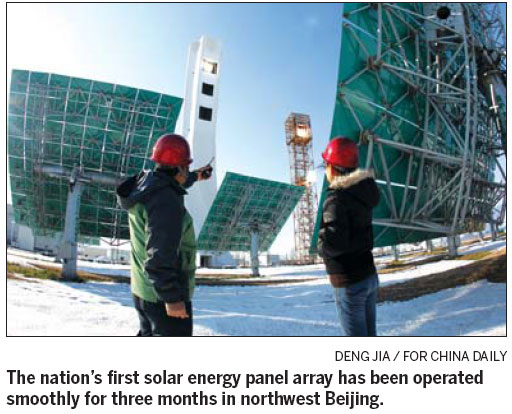 As China's photovoltaic solar industry hits increasing obstacles in foreign countries, many solar companies are eyeing the domestic market to survive the crisis.
Since the United States started probes into alleged dumping and unfair subsidies in PV solar panels from China late last year, domestic producers have faced a shrinking foreign market.
This year, the European Union followed the US move, claiming Chinese companies are selling PV solar cells under cost by receiving illegal government subsidies.
Up to 95 percent of the solar panels produced in China are sold overseas and the EU is the biggest buyer.
But China's solar industry has made a great contribution to the global solar market by reducing costs and creating millions of jobs in the US and EU.
With advantages in overseas markets gone, Chinese companies started to refocus on the domestic market.
The Chinese government is also making efforts to boost development of the solar industry.
The central government has unveiled series of policies to expand the domestic market, enhance industry mergers and consolidation, and promote innovation.
In late October, China's largest power utility company State-owned State Grid Corp announced that it will provide free connections for distributed PV solar electricity producers that are close to customers.
The company will be responsible for the cost of the connection design and modifications to the national grid.
In September, the National Energy Administration announced a plan to develop distributed solar power plants in a large scale. It has called for local governments to propose new solar power projects.
According to the plan, China's installed distributed solar power generation capacity will reach 15 gigawatts by the end of 2015, 5 gW more than the target in the 12th Five-Year Plan (2011-15).
"The key for China's solar industry is expanding the domestic market, and distributed solar power generation will allow the industry to develop as long as grid connection problems can be solved," said Meng Xiang'an, deputy director of the China Renewable Energy Society.
Many governmental departments including the China Electricity Council, the Ministry of Industry and Information Technology, the National Development and Reform Commission, the Ministry of Finance and NEA will jointly help the industry to get through the difficult period by promoting new energy projects, said Wang Sicheng, a researcher at the Energy Research Institute of the NDRC, during an industry conference on Oct 23.
NEA plans to offer subsidies about 0.4 yuan ($0.06) for each kilowatt-hour of distributed solar power.
The amount includes subsidies from both the central and local governments, according to industrial insiders.
But Wang said financing will be a challenge because the total cost of the initiatives will reach about 150 billion yuan.
dujuan@chinadaily.com.cn