Scores more screens to be built as foreign investment floods in
When Warner Brothers quit its movie theater business in China in 2006, a move that caused a big stir in the film industry at the time, it didn't dampen foreign capital's interest in the country's silver screen expansion but started a new era in the world's second largest economy.
That same year CJ CGV, the largest multiplex cinema operator in South Korea, made its debut in China with the opening of a Cineplex in Shanghai in partnership with Shanghai Film Group Co.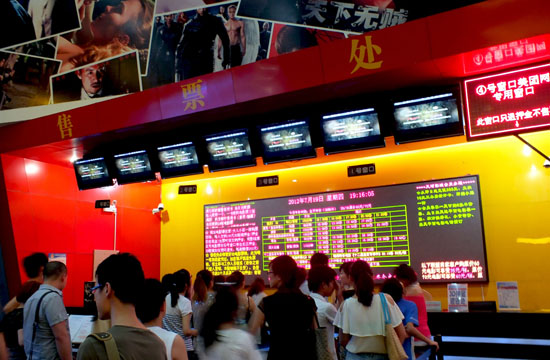 People lining up for film tickets at a theater in Yichang, Hubei province. Foreign investors are now allowed to open cinemas in China through joint ventures with local partners. Their stake cannot be more than 49 percent. [Photo/China Daily] 
"Our aim is to open more than 100 cineplexes in China by the end of 2015 because we are confident of the market's promise," said Li Baoyu, development director of CJ CGV's Beijing office. He is responsible for the company's cinema development projects in China.
Currently, the South Korean movie theater operator is running 12 multiplex cinemas in China, from first-tier to third-tier cities, including Beijing, Yantai in East China's Shandong province and Fushun in Northeast China's Liaoning province.
Foreign investors are allowed to open cinemas in China through joint ventures with local partners. Their stake cannot be more than 49 percent. The upper limit was once relaxed to 75 percent in some pilot cities in 2004 but was adjusted to the previous standard a year later and lasts to today.
South Korean investors are not the only groups that are attracted by China's movie market. Japanese and US businesspeople are also eyeing the potential.
Sun Wah Kadokawa (Hong Kong) Group Ltd, a joint venture established by Hong Kong's Sun Wah Media Group and Kadokawa Group of Japan in 2005, plans to open about 20 joint venture cineplexes on the Chinese mainland in the next three to five years with the target of becoming a leading investor and management group in the sector.
In 2007, it opened its first Cineplex in Luoyang, in Central China's Henan province, and more recently it has added another three theaters in Beijing, with the latest one becoming operational in 2011.
APEX International Cinemas Investment (HK) Ltd, which has a core team made up of key members of Warner Brothers International Cinema's former executives who operated its multiplex cinemas in China, was established in 2008 and soon acquired a strategic investment of $150 million from Entertainment Properties Trust, a leading entertainment property owner in the United States.
Although no APEX cineplexes have yet opened in the Chinese mainland, eight are in the immediate pipeline. One in Qingdao, in East China's Shandong province, is scheduled to open this Christmas, said Liu Zhiguang, co-founder and president of the company. The other seven will be in Harbin, which will have two, Chongqing, Hefei, Beijing, Changchun and Suzhou.
The company also plans to build 50 multiplex cinemas on the Chinese mainland in the next five to seven years, according to its official website.
This year, the number of foreign-funded theaters nationwide increased to 29 from 22 in 2011, according to statistics from EntGroup Consulting, a Beijing-based entertainment consultancy.
The box office receipts generated by the 22 foreign-capital cineplexes totaled 303 million yuan ($48.45 million) in 2011, taking a market share of 2.4 percent, according to EntGroup.