Chinese firm buys breakfast favorite to lead way in food fusion investment
This month, with the gobbling up of Britain's iconic Weetabix brand, Chinese food companies can be said to have planted their feet under the dinner table of the international market.
But as they seek more foreign acquisitions and develop overseas markets, it remains to be seen whether they can succeed in changing the eating habits of their own nation - starting with breakfast.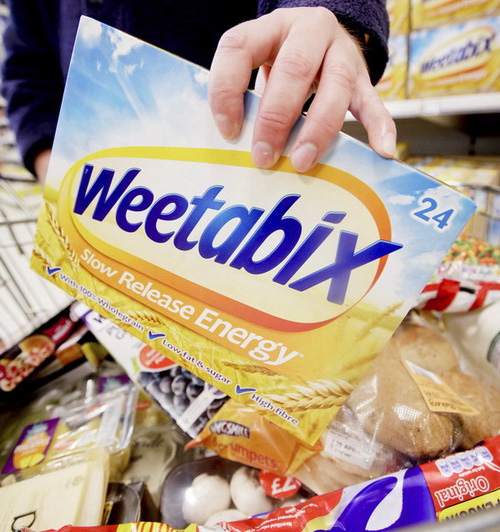 A customer places a packet of Weetabix breakfast cereal into a shopping cart at a supermarket in Slough, UK. Bright Food Group Co Ltd, China's second-largest food company, has completed its purchase of a majority stake in Weetabix Food Co. [Photo/Agencies]
China's Bright Food Group Co Ltd has just completed its purchase of a majority stake in breakfast cereal makers Weetabix Food Co, the largest overseas acquisition a Chinese company has made in the food industry.
Bright Food paid nearly 700 million pounds ($1.12 billion) to acquire a 60 percent stake and has agreed to cover 500 million pounds of Weetabix's debt.
The remaining 40 percent of shares continue to be held by the private equity group Lion Capital Management Group.
"The completion of the acquisition is the most important and most exciting moment for me, and for Bright Food," says Wang Zongnan, chairman of Bright Food.
"Weetabix is a famous international brand, so the acquisition signals Bright Food's entry into both the United Kingdom and global food markets."
Besides Weetabix, the 80-year-old breakfast cereal company also owns the brands Ready Brek and Alpen.
Bright Food aims to sell the products in China and other parts of Asia, using its existing distribution channels and experience.
Some experts note the acquisition shows Bright Food's confidence in the market prospects for China.
"The Weetabix brand will have access to all of Bright Food's distribution channels, including our more than 100,000 retail outlets, which will allow it to be brought to Chinese households more quickly," Wang says.
Bright Food, however, "will make some changes or adjustments to suit Chinese people's tastes".
"Weetabix has a high-quality portfolio of brands, the best production standards in its class and an excellent track record of innovation," Wang adds. "The biggest difficulty is finding a way to change the Chinese people's breakfast habits."
Chinese consumers prefer hot and traditional meals in the morning. Many are also in the habit of buying rice porridge or deep-fried dough from street vendors.
Industry analysts say Bright Food will find it difficult to sell the well-known cereal brand in China.
But, Wang says: "China has a population of 1.3 billion, and people are gradually changing their consumption habits."
Breakfast cereals will add one more healthy and nutritional option for breakfast, he adds, confident that Weetabix will sell better in China than other types of cereal.