BEIJING-- China's trade surplus widened in October, as export growth accelerated and import growth remained steady, according to data issued by customs authorities on Saturday.
Exports rose 11.6 percent from one year earlier in October, beating market expectations for a rise of 9 percent and stronger than the 9.9-percent increase registered in September, according to the General Administration of Customs.
Imports climbed 2.4 percent year on year last month, unchanged from the growth in September.
This resulted in a widening trade surplus of $31.99 billion in October, compared with $27.67 billion in September and $26.66 billion in August.
The rise in exports was the strongest since May, but analysts have been cautious to take it as a solid recovery because of sluggish external demand.
Weakening demand was reflected in the recently concluded Canton Fair, China's largest biannual trade fair, where total turnover dropped 9.3 percent compared with the fair's spring session.
The pick-up in exports growth in September and October only signals "a mild improvement" in the situation, Minister of Commerce Chen Deming said.
The improvement was caused by a higher comparative base from last year and the government's supportive measures, said Long Guoqiang, director of the Research Department of Foreign Economic Relations of the Development Research Center of the State Council.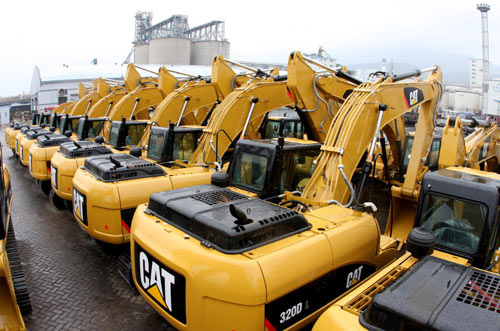 Excavators waiting to be exported are lined up at the dock of Lianyungang city, Jiangsu province Nov 10, 2012. [Photo/Xinhua]
In the first ten months, the country's foreign trade volume expanded 6.3 percent from the same period last year, the administration said.
China has targeted growth of 10 percent in total foreign trade this year, a figure that officials concede is going to be hard to achieve.
On the sidelines of the 18th National Congress of the Communist Party of China (CPC), Chen warned of lingering pressure on the country's foreign trade from weak global demand, rising domestic costs and growing trade protectionism.
However, in a sign that the worst might be over, the country's purchasing managers' index for the manufacturing sector continued to rebound in October and exceeded the boom-or-bust line of 50 percent for the first time since July.
Chen Hufei, a researcher at the Bank of Communications, expects export growth to keep picking up in the last quarter of the year, adding that imports will maintain single-digit growth.
China's trade volume with the European Union, its largest trade partner, fell 3 percent to $452.83 billion in the first ten months, while trade with the United States, China's second-largest trade partner, climbed 9.1 percent to $396.09 billion.
Trade with Japan declined 2.1 percent from one year earlier to $275.47 billion during the January-October period.