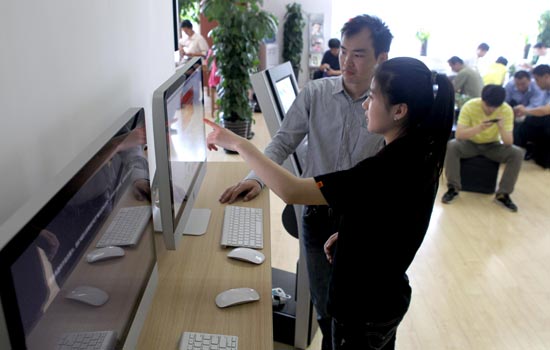 A Xiaomi Corp employee talks with a customer in Beijing on May 16, 2012. [Photo/China Daily] 
It's rare to see two famous Chinese business leaders engaging in a tit-for-tat spat publicly just because they are competitors. However, it happened between Lei Jun, founder of Xiaomi Corp, and Zhou Hongyi, chairman of the Chinese online security software developer Qihoo 360 Technology Co. Both of them lost their tempers and criticized each other on micro blogs.
On May 15, when Xiaomi released its youth version smartphone at 1,499 yuan ($235), Qihoo 360 announced a partnership with Huawei Technologies Co Ltd to introduce a similar smartphone model at the same price.
The two companies were quickly involved in a war of words. Lei accused Zhou of manipulating people to create malicious information about Xiaomi and disgrace Xiaomi products. The latter denied all the charges and criticized Lei, saying he feared competition.
The quarrel reflected a wide belief that there is intensified competition in China's smartphone industry. More and more outsiders, especially Internet companies, have shown a strong interest in rivaling traditional hardware manufacturers in the hope of grabbing a share of the smartphone market.
China's biggest Internet company, Tencent Holdings Ltd, has released six QQ smartphones, mainly targeting students, with different mobile phone makers. Baidu Inc, the search engine giant, introduced two smartphone models running on its self-developed mobile operating system.
Alibaba Group, which introduced its first Aliyun smartphone last July, priced at 2,680 yuan, released the second generation of the device priced at 1,499 yuan last month.
The latest newcomer is Shanda Interactive Entertainment Ltd. Chinese media reported Shanda was likely to introduce its first smartphone in June, priced at 1,199 yuan.
"Xiaomi could feel pressure because there are many ambitious rivals coming up from behind," said Zhang Yanan, an analyst with the Beijing-based consultancy Zero2IPO Group.
Smartphones, among various mobile devices that are likely to gain in popularity, have the same importance as software and applications. That's why various Internet companies regard the smartphone business as hot, Zhang said.
However, Lei expressed confidence in Xiaomi.
"Xiaomi is unique because it may be the only company in China that has integrated hardware, software and services from the very beginning. It's in Xiaomi's DNA," Lei said. Combining those three critical parts is also the secret of Apple's success, he added.
In addition, Xiaomi has millions of "Mi" fans, who defended Xiaomi smartphones during Lei's dispute with Qihoo 360. "Newcomers are not able to replicate Xiaomi's business models as Mi fans are considered loyal. But there are opportunities for some to sell devices to their core fans because China is such a big market with widespread interests to be covered," said C.K. Lu, a senior mobile device research analyst at Gartner Inc.
shenjingting@chinadaily.com.cn