Dalian Wanda Group Corp Ltd, which operates China's highest-grossing movie theater chain - Wanda Cinema Line - is reported to be in talks with the US' second-largest cinema chain, AMC Entertainment Inc, for a possible acquisition, according to The New York Times.
The US company is likely to sell a significant stake or even the whole company to Wanda Group, according to a source familiar with the deal, who declined to be identified.
Calls from China Daily to Wanda to confirm the report went unanswered.
Other domestic media organizations reported that their efforts to contact Wanda produced refusals to comment or a statement that the company was unaware of the report. AMC also didn't respond to queries by The New York Times.
Wanda Group mainly focuses on commercial properties and luxury hotels.
It entered the film industry in 2005 with the establishment of Wanda Cinema Line Corp, which generated 1.77 billion yuan ($281.4 million) in box office revenue in 2011, ranking first among domestic cinema chains, according to Zero2IPO Research Center, a Beijing-based consultancy.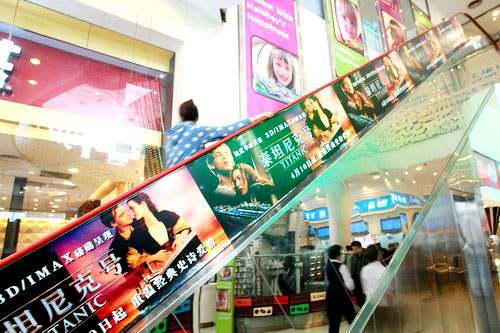 A Wanda cinema in Shanghai promotes the 3D version of Titanic. Wanda Group is reported to be in talks with AMC Entertainment to buy all or part of the US theater chain. [Photo/China Daily] 
According to its official website, Wanda Cinema Line currently owns 86 five-star cineplexes and 730 screens, of which 47 are IMAX screens, and it said that it plans to increase the number of cineplexes to more than 200 and to own 2,000 movie screens by 2015, accounting for more than 20 percent of China's box office market.
Wanda Cinema Line is in the process of applying for an initial public offering on the Shenzhen Stock Exchange.
Wang Jianlin, chairman of Dalian Wanda Group, earlier said at a conference that in 2012, total revenue will exceed 140 billion yuan, of which 20 billion yuan will come from its cultural business, a sector that is expected to generate more than 40 billion yuan within five years.
As one of China's best-known executives, Wang features frequently on "rich lists". He became the wealthiest person on this year's New Fortune magazine 500 Rich List with 46 billion yuan in personal assets, according to a list co-released by China Minsheng Banking Corp Ltd and the magazine on Tuesday.
Last year, he ranked the third on the same list and his wealth at that time was 3 billion yuan less than the publicized figure this year.
In addition, Wang ranked sixth on the Hurun Rich List 2011 and first on the Hurun Research Institute's China Property Rich List of 2010.
China's box office receipts grew 29 percent year-on-year to 13.15 billion yuan in 2011, and the number of screens rose from 6,266 in 2010 to 9,296 last year, up 48.4 percent, according to the National Bureau of Statistics.
The expanding film market might lead to a new phase in which the domestic film industry will have closer ties with Hollywood if the deal is completed.
"Since both parties declined to deny the report, the chances that it is true are high," said Zhang Yanan, a senior analyst specializing in media and entertainment at Zero2IPO Research Center.
She said if the news is true, Wanda's move could be interpreted as going beyond investing in theater chains or commercial properties, because it might hope to acquire the film content production resources in relation to AMC Entertainment to develop its own film-making business.
Zhang based her conjecture on the fact that in the United States, many cinema chains go beyond just showing movies, and sometimes they have connections with directors, actors and financial institutions.
Since 2004, AMC has been owned by an investment group, including the Apollo Investment Fund, Bain Capital Investors and J.P. Morgan Partners.
"There is a possibility that Wanda plans to make use of the potential resources within AMC to complete its film industry chain," Zhang said. Previously, Wanda Group invested $80 million in setting up a film and TV production company.
She added that probably Wanda simply views the deal as an investment in real estate, for in the US, the property industry is beginning to show signs of recovery while in China it remains relatively sluggish.
In terms of the possible influence of the acquisition on China's film distribution in the global market, Chen Shaofeng, deputy dean of the Institute for Cultural Industries at Peking University, said that "if the deal is completed, it won't increase the presence of Chinese films in the US market significantly, as the release of films in a certain market is decided by market feedback".
huangying@chinadaily.com.cn