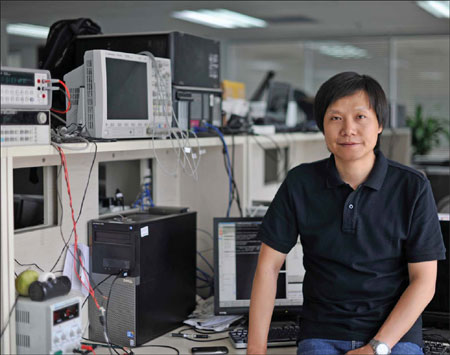 Xiaomi founder Lei Jun's attire, a black shirt and jeans, was a trademark of the late Apple CEO Steve Jobs. Provided to China Daily
Chinese startup company eyes top slot in mobile electronics sweepstakes
Like many others, Lei Jun is a great fan of Steve Jobs and hopes to build his mobile company Xiaomi Corp on the lines of Apple. But the similarity ends there.
Not content with having taken on Bill Gates 20 years ago, Lei is now ready to challenge the top slot helped by Jobs' iconic iPhone in the Chinese mobile sweepstakes.
Though Xiaomi Corp is just a startup, the 43-year-old chairman and CEO says that he will be able to wean away die-hard iPhone fans with products that offer similar or better features at more affordable prices.
Dressed in a black T-shirt and jeans, much like the attire made popular by the late Jobs, Lei is an ardent mobile phone enthusiast.
"In the past 10 years, I have used more than 70 mobile phones. I am also in the habit of carrying 10 mobile phones with me wherever I go. I can figure out whether a handset is good or not within half an hour," says Lei, who is also president of Kingsoft Corp Ltd, one of China's biggest software companies.
Though many have likened his speeches and attire to that of the late Apple CEO, Lei brushes aside such claims. Fondly called "Leibs" by his admirers, Lei did use the iPhone for comparisons when he launched the Xiaomi smartphone in August.
With a 1.5-gigahertz (GHz) dual core, Mi-One, the first generation of Xiaomi mobile phone, runs at speeds faster than most well known brands. The phone's operating system, MIUI, combines Xiaomi's own applications and Google's Android-based operating system.
What is more impressive is its 1,999-yuan ($317, 239 euros) price tag, less than half of the iPhone 4S.
"The success of Apple encourages others to follow suit. But if you are just imitating it, you cannot overtake it," Lei says.
He says that compared with the iPhone, Xiaomi sells mainly through e-commerce websites, which helps save costs. Lei says that Xiaomi's biggest advantage is that it doesn't expect to make money through hardware. "We are going to sell the hardware at around cost price, and make money through providing software, which gets updated every week, and other related services."
Facing up to challenges has always been in Lei's blood and that to some extent explains his passion for adventure sports like skiing. His passion for skiing saw him head to the dangerous French Alps to further enhance his skills, much to the chagrin of his parents and friends.
Lei says he always cherished dreams of becoming a successful entrepreneur and setting up a company like Apple.
"It was a dream that came to me first after reading the book called Fire in the Valley, The Making of The Personal Computer when I was just 18 years old." The book describes the growth stories of Microsoft and Apple. He says that finally he has taken a step in realizing the dream.
Since its debut in August, Xiaomi mobile phones have become popular in China in a short period of time. The company received as many as 300,000 orders for its Xiaomi phones in the first 34 hours after it started accepting online preorders on Sept 5. By the third round of online bookings on Jan 11, the numbers had swelled to 500,000. Such a sales response is similar to what Apple achieved for the iPhone 4 or 4S.
In December, Xiaomi also teamed up with China Unicom to offer the Mi-One through the telecom operator, just like Apple.
Going by the response so far, it is safe to say that Xiaomi has succeeded where many others have failed.
"We expect Mi-One sales to reach 2 billion yuan by the end of March, and to 5 billion yuan by the end of 2012," he says.
Unlike many of his Chinese peers, Lei has no plans to take his brand outside China and is content with further improving the domestic sales. "But if we find any suitable opportunity, we will certainly look at entering the international market."
He says the huge online customer base serves as a strong competitive edge for Xiaomi mobile phone's market expansion.
"The Xiaomi online forum has nearly 2 million members from 23 countries. These online fans are our potential target customers when we enter the global market."
Lei says the next generation of Xiaomi mobile phone are worthy of attention. "As for Mi-One, it is a pity that there is no sub camera installed, but Mi-Two will make it up."
As one of the most influential people in China's Internet industry, Lei's life experiences can be mirrored in many Hollywood films about an Internet guru's ups and downs. His life combines a craze for computers and innovation as well as the spirit to challenge the authorities.
Born in an ordinary family in Xiantao city of Hubei province in 1969, Lei exhibited skills in mathematics and computers even when he was a child.
He joined the computer department of Wuhan University in Hubei province in 1987 and went on to complete the required course credits two years in advance along with several scholarships.
He joined Kingsoft in 1992 and became its CEO when he was just 25. In 2007, two months after the company went public he decided to leave Kingsoft. But like Jobs who was invited by Apple again when he turned 40, Lei also was convinced to take over as president of Kingsoft in 2008 at the same age.
The work experience in Kingsoft is the most unforgettable for Lei, especially as it meant head-on competition with Microsoft.
He has also donned several other hats like co-founding the e-commerce company Joyo.com in 1999 (subsequently sold to Amazon in 2004 for $75 million) and making numerous investments in successful Chinese startups, such as Vancl.com, China's biggest online clothing retailer; and UCWeb, a Beijing-based mobile Internet browser maker.
According to Lei, competition in the office-software sector in China is intense. Set up in 1988, Kingsoft always had to contend with competition from strong US rivals like Microsoft's Office XP.
As a domestic flagship provider of office applications, in the early 1990s, Kingsoft's Chinese processing system, WPS Office, had a dominant market share, even up to 90 percent in 1994. But afterwards, it fell largely due to competition from the Microsoft Word system.
In 1996, when Kingsoft's sales hit rock bottom, Lei decided to take a temporary break from the company to ponder over future strategy.
During that time, he found that the biggest weakness of Kingsoft was its marketing ignorance.
"Kingsoft was a company mainly consisting of technologists, who tend to focus on techniques instead of market promotion. But good products also need to be promoted. Apple's success largely came from successful marketing," Lei says.
Kingsoft expects to realize over 200 million yuan from WPS Office sales in 2011 and grow this further by 30 percent this year.
"Although Microsoft is the dominant player in the word-processing software market in China, Kingsoft has been a worthy survivor and will never give up," says Lei.
Lei says that the letters "MI" on the brand "Xiaomi" can stand for "mission impossible" for some people. "But I am here to make the impossible mission possible," he says.