Rate of sales' rise in decline
Updated: 2011-08-16 10:13
By Wendy Qian (China Daily)
| | | | | | | | | | | |
| --- | --- | --- | --- | --- | --- | --- | --- | --- | --- | --- |
|   | | Comments() | | Print | | Mail | | Large Medium  Small | 分享按钮 | 0 |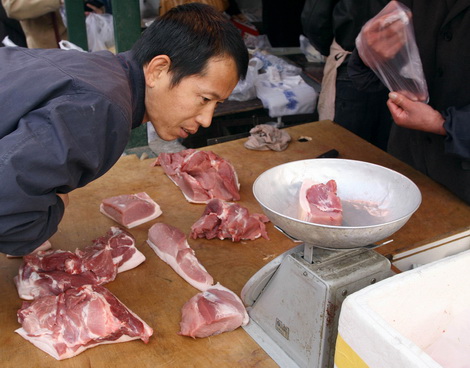 A man looks at a set of weighing scales before buying a piece of pork at a market in Beijing. Pork prices increased 56.7 percent year-on-year in July in China, one of the major factors that led to the consumer price index hitting 6.5 percent last month, according to the National Bureau of Statistics.[Photo/Bloomberg]
People are saving more despite inflation higher than interest rates, say economy observers
BEIJING - Wu Youquan, a sales representative at a privately owned company in Beijing, said that the soaring prices of commodities has deterred him from buying things, yet the more he saves the more he is unnerved by inflation and low interest rates.
"If I don't spend my 100 yuan ($15.60) now, it will purchase fewer goods in the future," Wu told China Daily.
His worries resonate with many urban citizens. People's Bank of China's latest survey showed only 14.2 percent of urban citizens are willing to "consume more", the lowest percentage since 1999. This consumer behavior is closely connected with the rapid expansion of China's money supply during the last global slump in 2009. The broad money measure known as M2 has soared by 64.3 percent in China.
The effects of a high consumer price index (CPI) on purchasing habits are keenly monitored by economists. Liang Da, an economist with the National Bureau of Statistics (NBS), recently wrote a report entitled Five Notable Ways of How Inflation Pressures Will Slow Down the Increase of Consumer Demand. Liang suggested that high property prices, a decline in the rate of car-buying, high public expectations of price rises, negative interest rates and high occurrence of food safety issues will slow down the increase of consumer demand.
Liang's report said that consumer confidence decreased because people anticipated higher prices for goods in the future and the public has been increasingly saving rather than spending. According to figures released by the NBS on Aug 9, the CPI rose 6.5 percent in July from a year earlier. Another statistic in Liang's report indicated the same trend toward a decrease in consumer spending.
Although total retail sales increased 16.8 percent year-on-year (not deducting the inflationary factor) to reach more than 10 trillion yuan for the first seven months of this year, and, in July alone, they reached 1.44 trillion yuan, up 17.2 percent, retail sales month-on-month showed a 0.17 percentage decrease from June to last month. Rather than purchasing products of famous brands, people have been buying goods with higher price/performance ratios.
Liang said that the increase of gas prices and the imposition of policies to limit car purchases have had a negative effect on the auto industry. Sales of car companies (with annual revenue of more than 5 million yuan) increased 15 percent year-on-year during the first six months. However, "the remaining five months of the car market development faces many uncertainties. The unpromising consumption of cars will negatively affect total consumption," Liang wrote. Partly because of the decrease in the level of car and property buying, the growth of retail sales as a whole is losing its strength. 2010's automobile sales contributed to 70 percent of total consumption.
Wu said that due to rising gas prices, he often thinks twice before driving around the city. "I compare the benefits of driving against the cost of current high gas prices," he said. Still, Wu is glad that he purchased his car before the government's recent lottery restrictions on car sales. "I might not be able to own a car even if I had enough money," he added.
The policies that slowed down the increase in home-buying have also affected the sales of furniture and household electronics. According to the NBS, furniture sales increased 30 percent during the first half of the year as against the first half of 2010, which is 8.5 percentage points less than last year's rise over the same period when measured against 2009 figures. Sales of household electronics and audiovisual systems increased 21.5 percent in the first half of this year against the first half of 2010. This was 7.3 percentage points less than the rise in the first half of 2009.
Zhuang Jian, a senior economist with Asian Development Bank, told China Daily that real estate and car sales are the two most significant markets that have contributed to the slowing down in the growth of consumption.
An 18-month period of negative interest rates (when inflation is higher than interest accrued on bank deposits) did not help increase consumption either. In an effort to alleviate these effects, the People's Bank of China raised benchmark deposit interest rates five times. The current 3.5 percent for a one-year deposit rate still lags far behind the CPI rise.
Furthermore, the People's Bank of China policy also requires that State-controlled commercial banks lend ever more of their deposits to the central bank. Commercial banks also tend to allocate their limited supply of credit to State-owned enterprises instead of private businesses.
Zhuang said that Chinese people have chosen to save their money in the banks despite negative interest rates due to their concerns about future education and medical fees. Negative interest rates also discourage people from leisure spending, such as traveling.
China's predilection for saving is partly because of costly medical care and a lack of insurance, Liang said. He suggested that a welfare system with medical, endowment, unemployment and industrial injury insurance should be available to both urban and rural citizens. "While the framework of China's social security system has been established, the system still requires much work," Liang said, adding that safety nets that discriminate against rural citizens do not fulfill the Chinese government's objectives of facilitating a free-flowing labor market.
Chinese people also lack investment options to increase their disposable income. Wu tried out some personal equity investment products, but he did not find them more profitable than saving money and receiving interest payments from the bank.
Zhuang told China Daily that for most mid-level income earners, both the stock and housing markets are too risky. Only high-level income earners have investment property options such as buying antiques and works of art. On average, only 2.5 percent of urban dwellers earn income from investment property.
"The sources of Chinese people's income are still undiversified compared with developed countries," Zhuang said. "The government should create better conditions for property investment if it hopes to see an increase in people's investment property income, which can also benefit consumption indirectly."
Liang is especially concerned because serious incidents that question China's food safety increased in 2011 and could potentially deter consumption in the food market. Cases of tainted pork, dyed steamed buns, recycled bread, fake beef, cancerous pepper and toxic watermelons have been in the news this year.
Liang called for more attentive supervision over food safety and quality and stricter legal consequences for opportunists in food production. "Morality alone is not enough for ensuring food safety. We must use laws," Liang said. He also suggested a preventative mechanism powered by information technology for all citizens to supervise food safety and root out criminals.