Global firms eye Chinese art
Updated: 2011-08-15 11:58
By Karen Yip (China Daily)
| | | | | | | | | | | |
| --- | --- | --- | --- | --- | --- | --- | --- | --- | --- | --- |
|   | | Comments() | | Print | | Mail | | Large Medium  Small | 分享按钮 | 0 |
BEIJING - Much like individual Chinese collectors who have made a splash in global art auctions over the past few years, China Inc and foreign businesses with ties to the Middle Kingdom are increasingly investing valuable time and financial resources on contemporary Chinese art.
Taikang Life Insurance Corp Ltd, a leading Chinese insurer, has been acquiring works by Chinese artists over the last 15 years. On Aug 20, Taikang is expected to unveil - for the first time to the public - artworks that are in the firm's collection.
Fifty-two modern and contemporary pieces from Taikang's corporate collection will be made available in a three-week exhibition at the National Art Museum of China entitled "Image. History. Existence". These critically acclaimed works by Chinese artists embody three distinct historical phases: from the art of the Mao Zedong era, 1976 until the present day, and emerging artists toward the future.
People should expect to see more Chinese corporations start collecting higher quality artworks for public spaces, said Meg Maggio, director of Pekin Fine Arts in Beijing.
"They not only enhance their corporate profile and public relations profile but also contribute to improving the quality of the interior and exterior environments surrounding their corporate headquarters," she said.
These days there are different types of corporate art collections in China.
Aside from Taikang, Poly Group is another early starter in collecting art and antiquities. China Minseng Bank Art Collection is said to be the most likely to have the largest contemporary corporate art collection.
Domestic law firms engaged in international business such as commerce and finance, King and Wood law firm, and Jun He law offices collect art pieces on an ad hoc basis.
The same is true for SOHO China. It acquired small art collections when prices were low and stopped when they started to rise.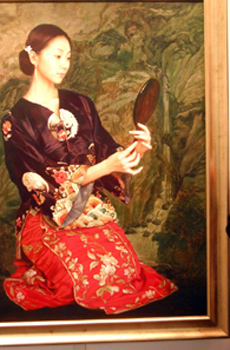 Oil painting Early Spring by Chen Yiming, younger brother of the famous Chinese painter Chen Yifei, on show during an art exhibition in Beijing. [Photo /  China Daily]
Fortune 500 corporations and financial institutions have long collected art and antiquities and have invested hundred millions of dollars in recent decades to amass and display an impressive array of works by top artists.
Credit Suisse, a major international bank, has been amassing a corporate collection of Swiss contemporary art since 1975. Some of the most influential corporate art collections in the world, notably Deutsche Bank, Microsoft, Progressive Insurance, JP Morgan, Clifford Chance, Flemings, UBS and Hallmark have all specifically focused on contemporary art.
Because these overseas corporations already had a history of art collecting and as their businesses expanded into China, Maggio said their corporate art collections naturally grew to reflect the corporate interest in the new China market.
"I'm not surprised that corporations are buying art. I would say the appreciation of contemporary Chinese art is client-driven as more businesses are targeting or have more Chinese customers," said Shang Chuang, director of investor relations and corporate development at Noah Holdings Ltd, a wealth management firm.
Such a move has proved to be a smart strategy for The Opposite Hotel. The boutique luxury hotel, owned by UK-based Swire Properties Ltd, attracts curious passersby and guests and gets people talking about its latest showcase of stunning yet playful Chinese contemporary art in the lobby.
"This is our real differentiator from the big, international hotels. When we have the launch parties for art exhibitions, people talk about it. We have the space and light to exhibit the art pieces and it attracts passing traffic," said Anthony Ross, area general manager, Beijing, of The Opposite House.
The hotel supports Chinese artists, musicians, and movie makers annually. Thanks to the eagerness of local art galleries to exhibit works by emerging and well-known Chinese artists in public spaces, the hotel gets to replace exhibited artworks on a quarterly basis.
Some of the establishment's permanent pieces are Beijing Memory No 1 and No 2, which are life size wearable Chinese dresses, or qi paos, made of shattered antique blue and white porcelain from the Ming (1368-1644) and Qing (1644-1911) dynasties.
Dream of China, another startling creation, is an ancient Emperor-style robe made of PVC, embroidered with colored fishing wire and suspended against a dark background.
For mature corporate collectors, their mandate has absolutely nothing to do with investment.
In the case of Microsoft Art Collection, its mission is to create an inspiring work environment that fosters creativity and innovation. Beside humanizing and energizing the workplace, the art pieces also represent the diverse and global community of the corporation's employees and customers.
In 2008, Paul Hsu, executive director of Hong Kong-based Elite Concepts, a hospitality firm with interests in the Chinese mainland and Indonesia, established 1949 in what used to be a former factory and research facility in Sanlitun, Beijing.
Today, nestled between skyscrapers and building on the unique concept of "art for sight, art for taste", 1949 is a hidden gem that boasts 6,000 square meters of neo-industrial chic, walled privacy with themed restaurants, bars, gardens, events spaces and a private member's club.
Its art gallery, Gallery49 is now a platform for young contemporary artists, with indoor and outdoor spaces as venues for exhibits.
Kuang Han, famous for his pencil drawings of vanishing hutong, was commissioned by Hsu to do a series of unique broad-line pencil sketches to complement the chic dining establishment. Liu Ruowang's bronze sculptures named Mars and Heaven Soldier: The East is Red" are a powerful addition to 1949. Further strengthening the design concept of 1949, prolific photographer Russel Wong's photography entitled Bamboo Forest is also on show.