VCs approach luxury retailers
Updated: 2011-08-15 09:58
By Wang Wen (China Daily)
| | | | | | | | | | | |
| --- | --- | --- | --- | --- | --- | --- | --- | --- | --- | --- |
|   | | Comments() | | Print | | Mail | | Large Medium  Small | 分享按钮 | 0 |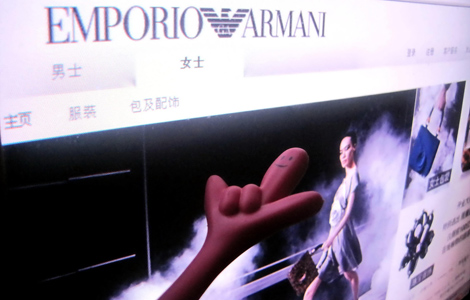 A computer screen shows the Chinese website of the Emporio Armani brand, part of the Armani Group. [Photo / China Daily] 
Fierce competition means they have to compete in product range, price
BEIJING - Venture capital was never part of Sun Yafei's strategy for her company last year, but it is now.
The chief executive officer of Fifth Avenue Globe Inc, the earliest luxury online retailer in China, had to turn to external funding in June.
The company is facing stiff competition from rivals already benefiting from large cash injections, said Sun, who believes that enterprises should not be totally dependent on the money of others.
Many luxury online retailers have emerged in China since late 2009. Small items such as handbags, cosmetics and watches from almost all familiar high-end brands from Gucci to Hermes, are available online.
The sources are diverse, ranging from the brands themselves to sales agents and overseas shopping malls. All boast discounted prices.
Sun, who started her company with her sister on Jan 1, 2009, purchased her wares from more than 200 luxury-goods agents, including Versace's, who provides her with a discount of up to 70 percent.
But Sun's company needs more money to negotiate with more agents and brands.
Analysts say expanding sources is the best area in which to invest capital in the sector.
Most luxury online retailers apply the "hunger marketing" method to sell their goods. That often involved forming a member-only website or limiting the time items are available. "Hunger marketing" also refers to a strategy by which the commodity provider or retailer reduces production or availability in order to create demand. If the product is popular, this strategy will allow the provider or retailer to achieve control of supply and demand while maintaining a high commodity price and reaping good profits.
Websites have to employ the strategy mainly because of the shortage of their stock, said Feng Po, an analyst with ChinaVenture Investment Consulting Group.
Purchasing from outlets and shopping malls is common, but the source only provides limited and out-of-date items, which do not meet the demand from the increasing number of local customers, Feng said.
He said it is necessary to cooperate with brands and agents directly, but the online retailers need enough bargaining power to negotiate with them.
"The websites need more money to build themselves up, including working on their service skills, in order to get the trust of luxury brands," Feng said.
Shangpin.com, a member-only luxury-goods online retailer launched in July 2010, has already finished three rounds of financing. Its latest injection was $50 million on July 27, the largest sum a luxury online retailer has received so far.
Zhao Shicheng, chief executive officer of Shangpin.com, said the company will use the money to build a consumer-confidence plan, including the expansion of its product sources and improving customer service.
A report from ChinaVenture shows that there were 12 rounds of financing in 2010 worth a total of $108 million, a figure that exceeded the amount invested in the previous several years. Twelve cases, totaling $283 million, were announced in the first six months of 2011.
A recent investor in the sector is IDG Capital Partners, which used to invest in Baidu and Dangdang. It plowed $10 million on July 19 into Secoo.cn, a luxury-goods online retailer launched in March.
Confidence in the prospects for online luxury retailers is behind venture capital investment, Feng said.
The turnover of online luxury-goods retailers could rise more than 100 percent annually, reaching $310 million in the next two years, according to the Global E-commerce Annual Report (2010-2011), released by China E-business Research Center in June.
"The luxury business is very attractive and so is the local potential market," Sun said. "As a result, investors are pushing hard to enter the business."
As soon as Sun expressed an interest in external funding, tens of venture capital companies came calling.
The World Luxury Association forecasted that China will be the first "luxury consumption country" in 2012 on the basis that the consumption of high-end goods on the Chinese mainland was already $10.7 billion in 2009.
Zhao, of Shangpin.com, said an "angel" investor decided to invest in his company on the evening they met for the first time. An angel investor is an affluent individual who provides capital for a business start-up, usually in exchange for convertible debt or ownership equity, as opposed to a corporate fund.
"I am the first person with whom the angel invested but did not know that before," Zhao said.
Shangpin.com received the latest investment 20 days after the contract was signed, Zhao said. It is one of the shortest periods in which this level of financing has been made available.
Along with the capital came a performance requirement.
Investors require companies to develop fast and make profits as soon as possible, which can have an adverse effect on a company's development, Sun said. That is why she refused offers of venture capital in 2010.
Sun said she worries that in order to meet her investors' performance requirements, the retailers will have to reduce their price to extreme levels.
Chen Yijia, vice-president of Zoshow.com Inc, is concerned about the breakout of price wars.
Chen told China Daily that cutting prices is the last resort if luxury-goods online retailers cannot find other ways to develop fast.
However, Chen also said her company could provide luxury goods at lower prices than its rivals.
"We have enough capital to support the low price," Chen said.
Zoshow.com received its latest investment with a $20 million injection in March.
The company, which describes itself as an online fashion retailer, provides more than luxury items.
Chen said the company once only sold high-end products but the sales volume was too low and increased only slowly. The company expanded its business to middle-ground goods, which are easier to sell in large volumes, she said.
The company has experienced an annual rise of 500 percent in sales and it aims to achieve a turnover of $10.8 to 15.5 million in 2011, Chen said.
On the subject of balancing performance requirement with stable development, Zhao said it is very important to choose the right investors who are prepared to invest for the long term.
Sun has been in contact with several investors and is currently considering their offers and demands.
"My company needs capital support but if their demands are too harsh I would rather develop slowly by myself," Sun told China Daily.