Profit margins thinning in denim capital
Updated: 2011-08-15 15:07
By Alexis Hooi and Qiu Quanlin (China Daily)
| | | | | | | | | | | |
| --- | --- | --- | --- | --- | --- | --- | --- | --- | --- | --- |
|   | | Comments() | | Print | | Mail | | Large Medium  Small | 分享按钮 | 0 |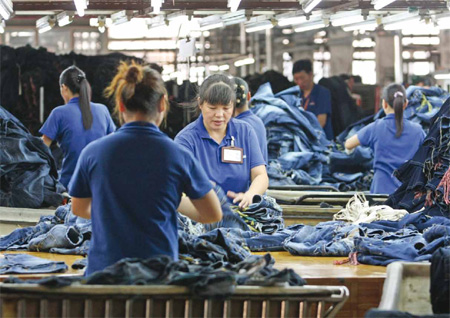 The factory of Conshing Group is just one of the more than 3,000 big jeans factories in Zengcheng, Guangdong province. Local manufacturers are feeling the pinch of rising labor and material costs. [Photo / China Daily]
GUANGZHOU - Zhou Hexi looks at a pile of jeans on the floor and shakes his head. "Profit margins are getting thinner and thinner. Now I make only 1 yuan ($0.16) from every pair of jeans I ship out," the 46-year-old said.
Zhou runs one of the more than 2,000 street-side workshops that sort, alter and label jeans in Xintang township of Zengcheng, a suburb of Guangdong's provincial capital Guangzhou, for buyers at home and abroad.
Zengcheng city is known as China's "denim capital". Last year jeans production fueled a 29.7 billion yuan textile industry, figures from local authorities show. More than 3,000 major jeans producers operate in Zengcheng, with more than 90 percent of them located in Xintang. Together, they can churn out about 200 million garments a year or more than half of the jeans for domestic consumers and about one-third of China's denim exports.
The jeans cut out by the massive sector trickle down to small outfits like those run by Zhou, who employs about 60 workers in a space less than 1,000 square meters that he started renting three years ago.
Zhou, from neighboring Hunan province, said he handles up to 300,000 pairs of jeans a year, mostly for export to Australia, Europe and the United States. He pays his workers up to 3,000 yuan each month.
"The increasing wages are one of the reasons that make it very hard for me to stay afloat," he said. "The standard of living might be improving in the area, but that also means its people are less willing to work for comparatively low pay. It's getting very difficult for me to find workers, and to pay them on top of trying to make a decent profit."
More than 12 provinces and municipalities in the country have raised their minimum wages by about 20 percent, with the average minimum set in all eight provinces in East and South China exceeding 1,000 yuan a month. The minimum wage in Guangzhou has been set at 1,300 yuan a month.
The rising cost of labor is just one of the many challenges that Zengcheng's denim sector is facing as Guangdong's low-cost manufacturers strive to move up the value chain in line with efforts to upgrade its economy.
Guangdong has topped the country's GDP for 22 years consecutively, with economic output reaching more than 4.5 trillion yuan in 2010, sources with the Guangdong Provincial Statistics Bureau said.
But apart from higher wages, Guangdong's authorities and businesses are becoming increasingly aware of the need to move away from the primary sector to answer calls to improve the welfare of workers and the environment.
Those are exactly the priorities that Xintang jeans manufacturer Conshing Group said it is pursuing.
The group is one of the biggest players in the industry. The original design manufacturer employs about 3,000 workers on its 32-hectare site and owns two major domestic brands, Conshing and Hitwon, that help reap about 300 million yuan a year from the home market.
The 20-year-old company operates facilities for the whole process of jeans production, from designing, cutting and sewing, to washing. It has the capacity to churn out more than 50,000 pairs of jeans a day that are also sold under foreign brands such as Polo, Lee, Guess and Abercrombie & Fitch.
"We are already a leader in the field and economic success is not our sole aim," said Wu Xiulan, Conshing's human resources and administration manager.
"We also place a lot of emphasis on the welfare of our workers and their working environment."
Wu said her company sets aside half of its area for greenery to improve the living conditions for workers. Major walkways are covered and cooled by misting systems to help relieve workers from the subtropical heat.
Most of its employees come from 20 provinces across the country and stay in company flats. There are also individual ceiling fans and air-circulation ducts for workers in its factories.
The company has invested heavily in water treatment facilities to reduce the impact its operations have on the surrounding area.
"Washing the jeans is a key part of production and other companies also use our facilities to wash their products. That is why water resources are so important and why we are minimizing our footprint on the environment," Wu said.
Conshing's water treatment facilities recycle nearly 70 percent of the 9,000 tons of water it uses to wash jeans every day, on top of the 2,500 tons of fresh water it pumps to the area. Five hectares of land is also set aside to contain treated water that is used to rear fish, ducks, shrimp and other flora and fauna.
Still, Wu said Conshing is constantly finding other ways to maintain its competitive edge. Some of the moves it has made to upgrade its operations include investing in 42 sets of advanced computer patterning and grading equipment that can create more than 200 paper patterns for production every month, and sewing equipment from Japan that can boost daily production capacity by up to 50,000 pieces.
The company is also focusing on tie-ups with overseas partners to push its products and designs to help expand the market for denim.
"We saw boom times from around 2003 to 2005, exporting a few million pairs of jeans to the US alone," Wu said. "That has changed after the financial crisis. But we are turning more toward the domestic market now."
Zhan Xueju, president of the Xintang Chamber of Commerce, agrees the township's businesses need to focus on improving the welfare of their workers as part of a maturing manufacturing sector.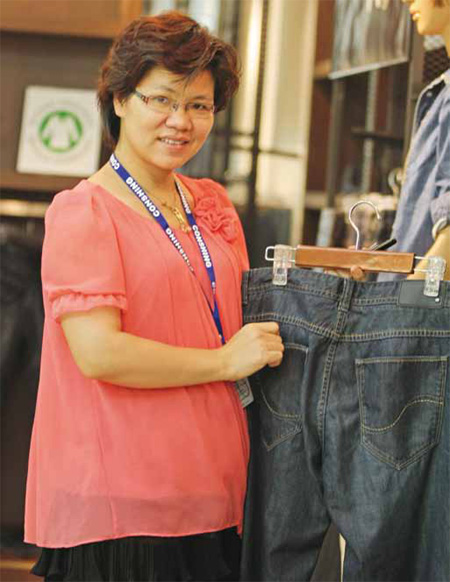 Conshing Group's Landy Wu says innovation is the way forward. [Photo / China Daily] 
"Businesses are becoming increasingly aware of the importance of ensuring the rights of workers, who may resort to extreme measures to vent their frustration if they feel they are mistreated," he said.
His comments follow the recent removal of two leading government and Party officials of Xintang after an incident of unrest in June. More than 200 migrant workers were involved in the unrest, which broke out after a pregnant migrant woman and her husband were injured in a dispute with a public security official on June 10.
Xintang's jeans producers also face problems such as inadequate regulations, standardization and management in ensuring the quality of their products, Zhan said.
"Right now, there are insufficient regulations to ensure the quality of all the products made by the thousands of businesses here," he said. "Just one runaway operator producing bad jeans can give us all a bad name and make it hard for the industry to upgrade into a high-quality, highly skilled sector."
Local businesses must also move away from being a "reactive" industry of waiting for orders from customers that they subsequently take a few months to fill, to becoming an "active" sector that sets the business agenda.
"We need to improve on our marketing, to sell Xintang and brand it as a hub for its jeans, so that we can take an active approach to sell our products and not just passively wait for clients to come to us," Zhan said.
To that end, efforts are already being made to increase the presence of the "Xintang" brand overseas, including the sponsorship of "brand ambassadors" to spread the township's strengths in jeans production worldwide.
"Taxation mechanisms must also be improved to better regulate the industry and weed out low-quality producers and help smaller businesses improve and move out of low-cost, low-returns manufacturing," Zhan said.
Jeans workshop owner Zhou Hexi agrees that more can be done to help small business owner like him.
"This line of work is becoming less and less lucrative. Hopefully we can all find a way out of this stagnation."