Sliver of a silver lining shines amid the gloom
Updated: 2011-08-15 14:19
By Zhang Jin (China Daily)
| | | | | | | | | | | |
| --- | --- | --- | --- | --- | --- | --- | --- | --- | --- | --- |
|   | | Comments() | | Print | | Mail | | Large Medium  Small | 分享按钮 | 0 |
BEIJING - Even as the prolonged debt crises in the US and Europe bring the prospect of an economic slowdown, Chinese imports may well turn out to be the beacon that guides global economies out of the financial maelstrom.
Not surprisingly it was Chinese imports that proved the savior in 2009, when strong demand for machinery, chemicals, minerals and steel helped developed economies survive the crisis.
This time around too, the world's second-largest economy is expected to continue its global shopping spree to satiate burgeoning domestic demand, even as the fear of a double-dip recession grows in the West.
Unlike 2009, the import basket this time will have a different set of ingredients. Consumption-related goods including food are likely to push growth-related imports such as oil, iron ore and equipment to the back seat, with Europe and the US replacing resource-rich nations such as Australia as the biggest beneficiaries, experts said.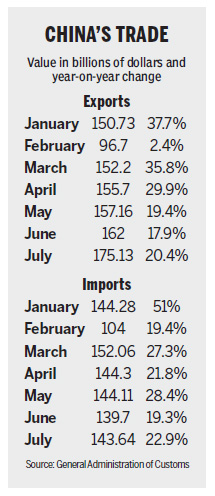 Such a change is inevitable as current demand is ruled by "strong fundamentals that are insusceptible to economic fluctuations", said Nie Pingxiang, a researcher with the Chinese Academy of International Trade and Economic Cooperation, a think tank affiliated to the Ministry of Commerce.
Nie said China's huge demand for finished products, especially food and branded consumer goods, constitutes what is called "rigid demand".
"This demand is on the rise and will easily offset the decline in raw-material imports," she said.
Based on price-adjusted figures, she said, imports of finished goods and consumer products accounted for more than one-third of total imports from January to June this year, compared with 23 percent two years ago.
As a result of this, she contended, China's imports will brave the global slowdown, if any, to grow by 20 percent to $1.7 trillion this year.
China imported $1.39 trillion of products to become the world's second-largest importer, trailing only the US, last year.
In the same period, the nation has also transformed itself from a net exporter to a net importer of a variety of consumer goods fueled by growing incomes and changing lifestyle patterns.
"Some of the imports have become daily necessities and China will continue to increase its intake of these products irrespective of whether there is a recession or not," according to Fan Ying, a professor of economics at the China Foreign Affairs University in Beijing.
Apart from daily necessities, China also needs to import high-end goods, such as sophisticated machinery and medical equipment from European nations such as Germany, experts said.
"I don't think a global slowdown will weaken China's demand for these goods," Fan said. "China needs them to maintain, if not expand, its scale of production."
China imported $423 billion of machinery between January and July, a year-on-year growth of 17.5 percent.
But not all experts are optimistic.
Some believe that Chinese imports will not be as impressive as they were in 2009 if a similar financial crisis hits, this time because China is not likely to roll out a massive stimulus package of the size it did in 2008, when the country launched $586 billion of measures to shore up its economy.
"Without a stimulus package like that, fixed-asset investment in items such as infrastructure will surely decline," said Bai Xuefeng, director of the trade department at the China Chamber of Commerce for Import and Export of Machinery and Electronic Products.
"In that case, how can we expect a surge in imports of foreign equipment and materials?"