The government is facing a daunting task to revive farmers' enthusiasm for growing grains, which has been dampened by the decline in grain prices, Wei Chao'an, vice minister of agriculture, said on Thursday at a press conference on the sidelines of the second session of the 11th National People's Congress (NPC).
China had seen a surplus from wheat harvests for five consecutive years. Last year, it witnessed a record high gross grain production of 528 million tons, and its output per mu peaked at 0.33 ton.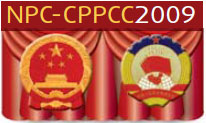 Despite the good news, Wei said the ongoing financial crisis had discouraged farmers from growing more grains and therefore will put the country in danger of grain insecurity.
China is still aiming to produce virtually all the grain it needs, Wei said.