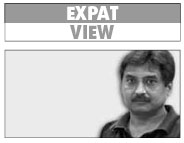 Turbulence. That's what the world is passing through now. Nothing seems to be independent or exclusive in these times of globalization.
The agriculture sector looks more important once attempts are made to strengthen the industries. Similarly, education or healthcare would seem as important as agriculture. The order is cyclic, with each point on the circumference seemingly more important than the others.
This does not augur well for a country as vast and populous as China, where a large number of factories have already closed and more than 20 million people have lost their jobs. The situation for white-collar workers, though not as bad, is not too rosy either.
The worst drought in more than half a century has added to the country's woes, posing a threat to government's goal of maintaining stable agricultural production. As Chen Xiwen, director of the office of the Central Leading Group on Rural Work, has said, the severe drought has cast a shadow on "efforts to maintain stable agricultural production and increase farmers' income".
What could complicate the matter further is a fall in grain prices, as feared by many.
The government has indeed taken steps to streamline education. It has announced policies to ensure everyone has equal access to quality education. The schemes announced to achieve this target range from offering free compulsory education, waiving tuition fees for university students in programs for teachers, sharing facilities and teaching faculties for primary schools in cities to increase government funds in rural areas.
On the healthcare front, the government aims to expand its medical insurance to cover every person and upgrade services through its new reform package.
These policies could have been implemented smoothly during normal times. But economic equations today have changed because of the global downturn. The country could raise its industrial production, but the market to consume new goods has shrunk, drastically in some cases. And the domestic market is not developed enough to immediately substitute the larger and wider global market.
The government has announced a $585-billion economic stimulus package, but a major part of that is likely to go into infrastructure, which does not necessarily increase consumer spending. Besides, the government does not want to raise domestic demand artificially.
That means more jobs could be lost in the industrial sector, fewer vacancies for blue-collar and white-collar workers, more pressure on agricultural land as migrant workers return to villages, less money in people's pockets to feed their families, educate their children and take care of the ill.
The government knows these challenges and accordingly has raised the social security budget by 22 percent to $49 billion. The agriculture, forestry and water conservancy budget has gone up by 27.5 percent to $50.4 billion, education by almost 24 percent ($29 billion), healthcare by 38.2 percent more ($17.2 billion) and environmental protection by nearly 19 percent ($18.1 billion).
All these figures look impressive on paper. The real challenge, however, is to implement the plans in letter and spirit. So the onus now lies with officials, especially at the provincial, city and county levels. It's they who have to deliver if the country wants to maintain social stability and build a harmonious society.
Op Rana is a senior editor with China Daily