BEIJING -- Chinese Premier Wen Jiabao said Tuesday China must deepen reforms and further open up as the country tackles economic woes.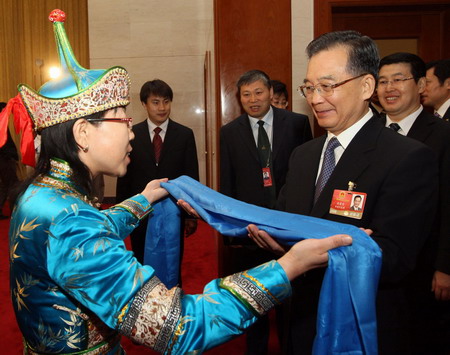 Chinese Premier Wen Jiabao talks with a deputy from Inner Mongolia Autonomous Region during a panel discussion of the annual session of China's National People's Congress (NPC) in Beijing, March 10, 2009. [Xinhua]
The policy of reform and opening up is the key choice that determines the future of China in the contemporary era and the country's powerful weapon in fighting the global financial crisis, said Wen when joining a panel discussion with lawmakers from Inner Mongolia Autonomous Region.
"The more difficulties we face, the more firmly we should stick to reforms and opening up," Wen told the lawmakers who are attending the annual session of the National People's Congress, the top legislative body.
The country should improve its development model with the spirit of reform and innovation and forge its advantage in international economic cooperation and competition by adhering to opening up, said Wen.
"Only by deepening reforms can we continuously perfect the socialist system and fully mobilize the enthusiasm and creativity of the people ... only by opening up can we learn from the achievements of human society and better tap the domestic and foreign markets and resources," he said.