BEIJING -- President Hu Jintao Monday stressed the necessity to promote development and stability in Tibet when joining a discussion with legislators from the Tibet Autonomous Region.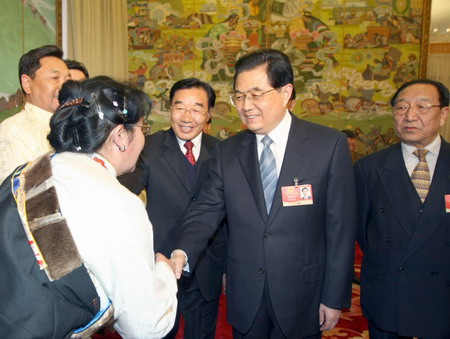 Chinese President Hu Jintao shakes hands with a deputy from the Tibet Autonomous Region during a panel discussion with deputies of the National People's Congress (NPC) in Beijing March 9, 2009. [Xinhua]
"We must combat separatism and safeguarding national unity, so that Tibet, now basically stable, will enjoy lasting peace and stability,"  Hu told deputies of the National People's Congress (NPC) during a panel discussion.
Full Coverage:
Tibet in 50 Years
Related readings:


More patrols to ensure Tibet stability


Lhasa riots won't repeat: Tibet official


Tibet always open to objective foreign reporters


Official: Tibet stable, riots unlikely


 Tibetans do religious rituals amid tightened security
He urged Tibet authorities to implement the central government's policies on Tibet, focus on development and stability issues, attain an economic great-leap-forward, safeguard "national security" and "social stability", and keep improving people's living standard, in order for them to make new progress in the building of "a unified, democratic, prosperous and harmonious socialistic new Tibet."
In pursuing economic development, Hu said, Tibet must stick to the development road with Chinese characteristics and Tibetan features so as to strengthen the material foundation for the building of socialistic new Tibet.
The President urges Tibet to vigorously advance the program of building "socialist new villages," develop industries with distinguished features" and strengthen ecological and environmental protection.
Hu expressed the hope that Tibet should embark on more projects that will directly result in the improvement of people's life and working conditions, particularly those of farmers and herdsmen.
The government must also give priority to addressing people's immediate needs, so that people of all ethnic groups in Tibet will be able to share the fruit of development, he said.
Ready to Handle Incident
Hu's remarks came ahead of several sensitive dates in Tibet.
Tibet will mark the 50th anniversary of the abolishment of slavery and the theocratic regime of the Dalai Lama on March 28.
On March 10, 1959, in an attempt to preserve the old serfdom, the nobles and slave owners staged an armed rebellion, which was foiled by the central government of China.
The riot changed everything in Tibet. The Communists soon decided that democratic reform should be carried out immediately to demolish the entire old system led by the Dalai Lama.
The Preparatory Committee of Tibet Autonomous Region replaced the Gaxag  government and set out to lead the reform.
From 1959 to until 1966, 1 million slaves were granted land, houses and their freedom.
The Dalai Lama, who fled to India, has maintained a government-in-exile since 1959, and China has charged that this group was behind the riot in Lhasa on March 14 last year and other Tibetan areas of China.
Earlier on Sunday, Legqog, chairman of the Standing Committee of the Tibet Autonomous Region People's Congress, said the Dalai clique has increased its secessionist and sabotage activities in Tibet this year.
"They made attempts to make trouble through collusion with those inside or even sending in their people," he said.
"Although Tibet is currently very stable, our troops are ready to handle any infiltration and sabotage activities by the Dalai Lama clique and other hostile forces," Kang Jinzhong, political commissar of armed police corps in Tibet, told Xinhua Monday.
"All the armed police forces across Tibet are on routine duty. The armed police force has the ability to handle any emergencies an any time,"he said.
Tibetan people are "very simple and kind" and their heart stood with the Party, according to Kang, who has been working in Tibet for more than three year.
"If there were really disturbance, it must be caused by a few people instigated under the disguise of religious cause," he said, adding up to now armed police in Tibet had not found any "abnormal situation."
Kang said some hostile forces or "a handful of people" might be making preparations for making trouble, but their conspiracy would not succeed.
Some overseas media have reported that conflict might arise at any time in Tibet, but Kang said that was "purely talking nonsense."
"I am completely relaxed. To be frankly, if Tibet were in a tense situation, I would not have come here for the parliamentary session or talk to you," he told Xinhua, adding, "I'm confident so I'm here for the session."
Kang said Tibet did not experience any instability after the March 14 riot in Lhasa.
The riot, occurring in Lhasa during last year's parliamentary session, caused 18 deaths and huge economic losses.
BORDER CONTROL TIGHTENED
In the riot last year, innocent civilians suffered the most.
Tibetan businessman Losang still keeps photos of the damage to his souvenir store near Lhasa's Jokhang Temple. "They broke the glass and took away some of my most valuable items."
Losang feels easier seeing police and soldiers of the People's Liberation Army patrolling Lhasa's streets. "Tightened security is a good thing for business people and all residents."
"Who cares what other people think of the tightened security in Lhasa?" said a Tibetan woman who was taking her preschool daughter for a walk in a park near the Potala Palace.
"It's always easy to point a finger at others, but we are the ones who actually went through the tragic experience last year," she said. "If not for the police and PLA, I wouldn't have dared to take my daughter out to the streets now."
Expecting possible sabotage activities by the Dalai Lama clique, a senior police officer said here Monday that border control has been tightened in Tibet.
"We have made due deployment and tightened controls at border ports, and key areas and passages along the border in Tibet," Fu Hongyu, Political Commissar of the Ministry of Public Security Border Control Department.
"We will firmly crackdown on criminal activities in Tibet's border area that pose a threat to China's sovereignty and government," said Fu,  a deputy to the NPC session.
"We will go all out to maintain the security and stability of border and coastal areas," said Fu.
Tibet, a plateau region in China, has a lengthy border with Myanmar, India, Bhutan and Nepal.