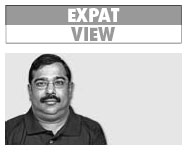 With layoffs, scandals and bankruptcies, the global economic landscape is anything but bright. Amid so much of gloom and doom, news emanating from the ongoing National People's Congress (NPC) deliberations has come as a whiff of fresh air, offering a ray of hope for the future.
And why not? China has so far done a commendable job to sustain fiscal stability by embarking on a prudent investment strategy that is designed to generate more employment and overall development of infrastructure. The government also made its intentions clear that it does not want to get bogged down by the global economic recession and intends to maintain a steady growth trajectory.
Premier Wen Jiabao's address in Beijing to the NPC indicated that the government is now treading cautiously with an open and flexible mind to the changing economic situation. At the same time, there are indications that the government is not averse to using more fiscal measures if the situation demands.
There has been a good response to the 4-trillion-yuan ($584 billion) stimulus package that envisages huge spending on infrastructure, affordable housing and environment. Bank lending has increased, while early surveys by manufacturers have indicated a revival in demand. The country's high savings rate and nearly $2 trillion in foreign currency reserves also provide enough cushion for the government to implement its policy initiatives.
Admittedly, reining in the budget deficit in the wake of spending is an issue that confronts the government. Wen maintained that the annual budget deficit of 950 billion yuan is below 3 percent of China's gross domestic product (GDP) and "within the acceptable range".
The big challenge, however, still remains in the form of boosting exports. "Demand continues to shrink in international markets; the trend toward global deflation is obvious; and trade protectionism is resurging. The external economic environment has become more serious, and uncertainties have increased significantly," said Wen.
Economists and analysts have often wondered whether China would be able to ride out the recession. While setting a realistic growth target of 8 percent for the GDP this year, the premier clearly signaled that the government intends to catch the bull by the horn.
The government is also not averse to using a carrot and stick policy to prop up exports and keep the yuan exchange rate "basically stable".
Simultaneously, China is also working towards a consumer boom to take advantage of the vast captive domestic market. This goes well with some economists' belief that the government may further increase spending on education, welfare and healthcare to free up consumer cash for spending.
The government has said it would increase spending by 24 percent, to 4.38 trillion yuan, and even raises the limits for local government spending by nearly 25 percent to 6.1 trillion yuan. Rural spending will increase by 20 percent and the social security net by 17.6 percent. Farmers in the country will get some 40 billion yuan in coupons to buy cars, motorbikes, appliances and farm machinery as part of the efforts to trigger domestic demand, all clear signs of which way the wind is blowing.
Man Ranjith is a senior editor with China Daily