Confucius always said: "Among any three people, there must be someone who can be your teacher."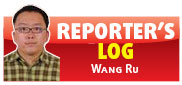 I deeply believe in the wisdom of this adage.
On Tuesday morning, in a hotel in western Beijing, I interviewed Fang Fang, CEO of JP Morgan Securities (Asia Pacific) Ltd, who was at the National Committee of the 11th Chinese People's Political Consultative Conference (CPPCC).
I always find it informative to speak with a financial professional. Upon finishing the interview, which had proven a good economics lesson, I left and hailed a cab.
During the 20-minute drive, I would receive another lesson. It began with a simple question.
"Are you a journalist?" the driver asked. I nodded. I had no intention of talking with this middle-aged man; I just hoped he could circumnavigate any traffic jams.
"Are you covering the two sessions?"
Beijing's cabbies are known for being particularly chatty and are good sources of gossip. So, I gave in and decided to engage him, especially since he had expressed interest in the two sessions.
"Do you think they will implement those piles of proposals into practice?" he asked.
It was a good question - but one I didn't really know how to answer.
"The central government will definitely put constructive proposals into practice," I replied.
"Perhaps the government could allow other political parties to supervise the implementations' progress?" the cabbie suggested.
He's right. Actually they are already doing so.
After a brief silence, he asked: "Have you heard anyone say something on behalf of our cab drivers? We really are slaves to the cab companies."
"I earn 8,000 yuan ($1,200) a month but have to hand 5,000 yuan over to my company for management fees," he said.
"And I don't get any holidays; even if I'm sick at home, I still have to pay them."
His complaint aroused my curiosity.
His company manages a 3,000-car fleet and every driver must pay a 40,000-yuan deposit before getting behind the wheel, he said.
"The company refunds the money after four years, without interest. But if the car is damaged, they deduct repair costs," he said.
"I had dreamed of buying my own car and going into business for myself - and could have - but the government stopped issuing private taxi licenses."
He said he was envious of the last batch of private drivers, whose sunset days ended in the early 1990s.
"Maybe the company-oriented market is better for management and regulation?" I asked.
He didn't respond. I guess he'd heard that one before - probably a lot.
"The government should arrest the relatives of those corrupt officials who escaped abroad and force them to come back," he joked.
When we arrived at the office and I was getting out, he asked: "When are we going to not have to pay for received mobile phone calls anymore?"
In the office that afternoon, I took note of two of the latest National People's Congress news items.
One came from an official report of the Supreme People's Procuratorate, announcing 1,200 corrupt officials who had fled were arrested last year.
The other was that Minister of Industry and Information Technology Li Yizhong had promised telecommunications fees would be lowered this year, and any new mobile phone services would not charge for received calls.
Since the country's top political conferences have closed, I have learned an important lesson: Any proposal raised, questioned and debated - be it about the financial crisis, unemployment or food safety - should be always aimed at benefiting the majority.
And we should listen to the voices of vulnerable social groups and endeavor to fulfill our promises to them.
That is what I learned from the cab driver. And for that, I am thankful.