China's Ministry of Finance on Thursday submitted a report on the implementation of 2008 central and local budgets and on the draft budgets for 2009 to the second session of the 11th National People's Congress, China's top legislature.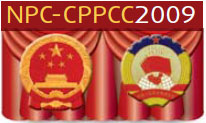 The following are some key figures from the report:
-- The central government in 2009 will allocate 908 billion yuan ($132.75 billion) in public spending, an increase of 487.5 billion yuan.
-- The central budget for 2009 earmarks 123.08 billion yuan for direct subsidies to grain producers, general subsidies for purchasing agricultural supplies, subsidies for growing superior crop varieties and subsidies for the purchase of agricultural machinery and tools, an increase of 20.04 billion yuan or 19.4 percent.
-- In 2009, a total of 220.833 billion yuan will be allocated to increase subsistence allowances for both urban and rural families, grant them and other families in financial hardship a one-time subsidy before the Spring Festival, increase basic pension payments for retirees from state-owned enterprises and increase support for entitled groups.
-- 103.341 billion yuan will be allocated in 2009 to implement a policy subsidizing rural residents' purchase of home appliances and vehicles and increase reserves of important materials such as grain, petroleum, nonferrous metals and specialty steel products.
-- The central government in 2009 will allocate 716.14 billion yuan, an increase of 120.59 billion yuan or 20.2 percent, to assist agriculture, rural areas and farmers; 728.463 billion yuan, an increase of 165.334 billion yuan or 29.4 percent in comparable terms, for items directly related to the people's wellbeing such as education, medical and health care, the social safety net, employment, low-income housing and culture.
Related readings:


 Social security expenses to be up by 17.6%


 China to invest 850b yuan in medical reform


 China to put more funds to support SMEs


 China aims for 20% growth in fixed asset investment in 09
-- The central government will allocate 146.103 billion yuan for science and technology, an increase of 29.774 billion yuan or 25.6 percent.
-- 20 billion yuan in subsidies on the interest payments of bank loans will be allocated to accelerate technological upgrading and advances in enterprises and encourage banks to increase loans in this respect with the focus on projects designed to invigorate industries.
-- Spending on energy conservation and emissions reduction will increase with a special allocation of 49.5 billion yuan to support efforts to retrofit energy-conserving technology and retire backward production facilities.
-- A total of 9.6 billion yuan will be allocated to support development of small and medium-sized enterprises.
-- Total revenue in the central budget should reach 3.586 trillion yuan, an increase of 318.801 billion yuan (including the increase in sales tax receipts following reform of taxes and fees for refined petroleum products) over the actual figure for 2008, an increase of 9.8 percent.
-- An amount of 50.5 billion yuan will be added from the central budget stabilization fund, bringing total revenue for 2009 up to 3.6365 trillion yuan.
-- Total expenditures in the central budget total 4.3865 trillion yuan, an increase of 848.501 billion yuan, up 24 percent.
-- Expenditures exceed revenue in the central budget, resulting in a deficit of 750 billion yuan.
-- The State Council will allow local governments to issue 200 billion yuan worth of government bonds through the Ministry of Finance, which will go into provincial budgets.
-- Preliminary provisions for the central and local budgets indicate that total national revenue should reach 6.623 trillion yuan, an increase of 8 percent, and total national debt should reach 7.6235 trillion yuan, an increase of 22.1 percent. Total expenditures should exceed total revenue, yielding a deficit of 950 billion yuan to be offset by bond issues.