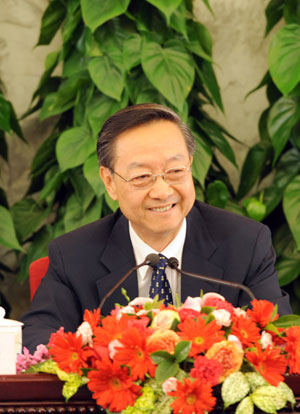 Minister of Industry and Information Technology Li Yizhong smiles during a press conference on "Boosting domestic demand, increasing employment and sustaining economic growth" held by the Second Session of the 11th National People's Congress (NPC) in Beijing,  March 10, 2009. Minister of Human Resources and Social Security Yin Weimin and Minister of Commerce Chen Deming also attended the press conference. [Xinhua]
There are indications that China's industries are recovering, the country's top industrial official said yesterday while cautioning that businesses still face "their most difficult times".
Li Yizhong, minister of industry and information technology, pointed to the increased power consumption and the surge in the output of steel, cement and auto sectors as signs of a recovery.
"We have observed some positive signs in our industrial sectors thanks to government's policy initiative," Li told reporters on the sidelines of the annual session of the Standing Committee of the National People's Congress, the country's top legislative body.
Total power consumption in January and February fell 3.7 percent compared to last year. This difference, however, is much lower than the year-on-year drop of 17.5 percent in November and 8.7 percent in December, Li said.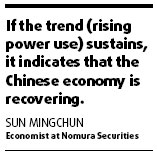 In metals industries, crude steel output increased 2.4 percent year-on-year during January and February after mills consumed all the high-priced iron ore they had bought last year. Daily steel output in February was 7.9 percent more than the output in January, according to Li.
The auto and the cement sectors recorded some highs too, he said. Vehicle output hit 850,000 units in February - a monthly high since last July - while the country's cement output jumped 17 percent from a year earlier to 159 million tons in January.
"These are all the signs that point to a recovery in industrial sectors," Li said. "But industry is still facing a serious situation. It is still in very difficult times. We cannot conclude that it has recovered."
Analysts and industry observers agreed that the increase in power consumption marks the beginning of an upswing.
"Electricity output points to stronger industrial output," Sun Mingchun, an economist with Nomura Securities, said. "If the trend sustains, it indicates that the Chinese economy is recovering," Sun said in a research note yesterday.
Li said the government is confident the country will move out of the slowdown and put industrial growth back on track.
He pointed out that the government has announced a 20-billion-yuan ($2.9 billion) fund to subsidize enterprises' loan interests if they upgrade their technology to better cope with the economic downturn.
The input can spur bank lending and corporate spending and is expected to generate a total investment of more than 400 billion yuan in technologies, Li said.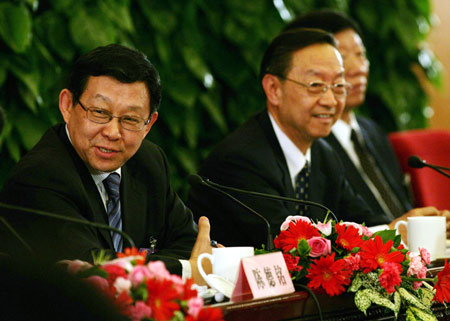 (From left) Minister of Commerce Chen Deming, Minister of Industry and Information Technology Li Yizhong and Minister of Human Resources and Social Security Yin Weimin address a press conference on the sidelines of a session of the National People's Congress yesterday. Xu Jingxing