International crude prices are not likely to see big fluctuations this year and are expected to remain at a relatively low level, according to Cao Xianghong, senior consultant and former senior vice-president of Sinopec Corp.
Cao made his remarks on Tuesday on the sidelines of the annual session of the National People's Congress.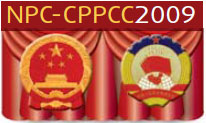 "There is some possibility that crude prices will experience a small surge, but I believe it won't go past $90 a barrel," he said.
Oil prices have traded in a narrow band of around $40 since mid-December last year, hit by the falling demand due to the global economic downturn but drawing some support from expectations that OPEC might cut output again when it meets on March 15.
"Long-term low oil prices have increased chances of energy insecurity," Cao said. Oil producers will cut production to boost prices, and when the economy recovers, crude prices will soar to unacceptable heights, he said.
"By then, it may even be higher than the $147.27-a-barrel-record in July last year," he said.