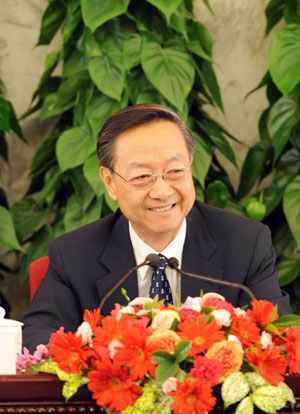 Minister of Industry and Information Technology Li Yizhong smiles during a press conference on "Boosting domestic demand, increasing employment and sustaining economic growth" held by the Second Session of the 11th National People's Congress (NPC) in Beijing,  March 10, 2009. Minister of Human Resources and Social Security Yin Weimin and Minister of Commerce Chen Deming also attended the press conference. [Xinhua]
The volume of power consumption in China continued to dip in the first two months of this year but the downward pace was slower, said the Industry and Information Technology Minister Li Yizhong in Beijing Tuesday.
Combined power use in January and February fell 3.7 percent from the same period of last year, compared with a year-on-year drop of 17.5 percent last November and 8.7 percent in December, Li said at a press conference during the annual parliament session.
When replying to a journalist seeking his comment on a reported4 percent year-on-year rise in February power use, Li said the figure was yet to be formally released by the National Bureau of Statistics but "the 4 percent figure was generally right".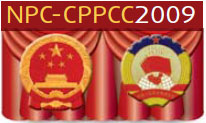 However, the monthly rebound in February was not comparable as the Spring Festival holiday, which subdues industrial activity, fell in February last year but in January this year, said Li.
The "obviously slowed slump" shows "some positive signs" have emerged in the economy but the situation remains "grim" and the industrial sector is still "in a very difficult situation", he said.
"We must not treat the difficulties lightly or easily talk about a recovery," said Li.