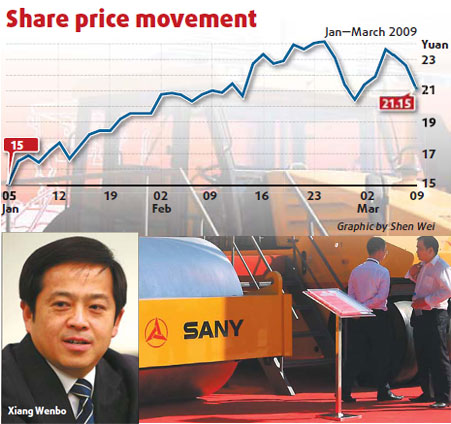 China's major heavy machinery maker, Sany Heavy Industry Co is planning to enter the nuclear power and jet engine manufacturing business even as it remains cautious on overseas acquisitions, a top company official said.
Related readings:


 Sany to hire 1,000 graduates in '09


 Sany expects sales to hit 30 billion yuan in 2009


 China's Sany Heavy to build plant in Germany


 Sany set to build US$60m US facility

This would mark another major shift for the company after it diversified into wind power equipment manufacture recently.
"These are our goals and part of our strategic plan," said Xiang Wenbo, president of Sany Heavy Industry on the diversification into nuclear power and jet engine equipment-making business.
Sany, which Xiang said aims to become the General Electric of China, would gradually tap into the "core manufacturing sectors," he said, without giving any specific timetable.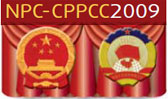 "The core manufacturing sectors such as nuclear power and aircraft engine equipment-making not only hold great market potential, but is also vital to China's overall national strength," Xiang said in an exclusive interview with China Daily during the ongoing annual parliament session.
China still prohibits the entry of private enterprises in some core industries, but Xiang said he believed they would eventually gain the government support and approval if they "show they are capable".
Sany, which makes concrete pumps and road rollers, expects its sales to touch 30 billion yuan this year, up from last year's 20 billion yuan, Xiang said.
"Our sales growth will mainly come from the domestic market, which is set to gain from the government's 4-trillion yuan economic stimulus plan," Xiang said.
The company still remains pessimistic on the overseas market even though it reported a 160 percent surge in exports in 2008. Xiang said he expects overseas sales growth to remain flat this year.
"Overseas sales this year may remain the same as last year, at around $500 to $600 million," Xiang said.
"The heavy machinery industry has been hit severely by the global financial crisis," he said.
But Xiang, a deputy to China's top legislature, said the global economic downturn is also the "perfect time" for overseas acquisitions in the machinery sector for Chinese companies.
"The market value of some Western peers have evaporated more than 90 percent compared with their peaks and are only traded at a P/E ratio of 3, which I think is a perfect time for acquisitions," Xiang said.
He suggested that government should work out a package of supportive policies to assist Chinese firms making overseas acquisitions, such as extending credit support.
Xiang said "several" foreign companies have approached Sany for possible acquisition deals but he declined to reveal their names.
Sany "has the financial resources and international operations expertise to acquire foreign rivals", Xiang said.
"But we will move very cautiously in this regard," Xiang said.
"The cost of buying the company is much lower than integrating them and it could lead to disasters if mismanaged," he said.
"Language barrier, cultural differences and management style are all elements that should be fully considered before taking a decision on such deals," Xiang said.
The Hunan-based company, which has recently announced a 100 million Euro investment in Germany to build R&D and manufacturing facilities, is more interested in setting up its own plants overseas than the outright acquisition of foreign players, Xiang said.
"We can manage our risks better by setting up the plants ourselves as we can control the pace and process of our investment," he said.
If the economic downturn worsens, "we could downsize our factory or our investment more easily than if we had bought a foreign company," Xiang said.
The Shanghai-listed company, Xiang said, intends to recruit 1,000 graduates this year and has no plan to slash jobs and cut salaries.
"We have confidence in our company and Chinese economy, so we just want to increase our human resources reserves," Xiang said, adding the company will assign the new recruits to strengthen its R&D capacity.
Sany announced earlier this year that its chairman will only receive 1 yuan annual pay this year while its board members will cut salaries by as much as 90 percent, and senior management by 50 percent, to cope with the economic downturn.