China is going to report a lower deficit-to-GDP ratio next year, after the country set a record high fiscal deficit budget of 950 billion yuan ($139 billion) for 2009, a senior official said Monday.
"It is possible for the country to reduce its deficit-to-GDP ratio, as the country's economy makes a positive turn in the future and macro control adjustments become effective," said Gao Qiang, vice chairman of Financial and Economic Committee under the National People's Congress (NPC), at a press conference here.
The total deficit for 2009 accounts for less than 3 percent of China's gross domestic product (GDP).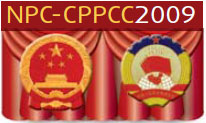 A surge in the country's budgeted fiscal deficit for 2009 is aimed to expand government investment to stimulate the economy, said Gao, also director of the NPC Standing Committee's Budgetary Affairs Commission.
The 950-billion-yuan deficit, though a record high in six decades, does not translate into a top deficit-to-GDP ratio in history, Gao, a NPC deputy, told reporters.
Economists said the deficit expansion was in the safe range and would not threaten China's fiscal and economic safety, but also warned the government might come under pressure to sustain a continuous deficit expansion in the coming two to three years.