Geely Auto, one of China's biggest privately owned carmakers, may start mass production of its new alternative-energy cars in the second half of this year, its chairman said Saturday.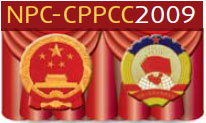 The Zhejiang-based carmaker, which unveiled its methanol-powered Haifeng last year, will start production this year but "will not in the first half," Chairman Li Shufu said on the sidelines of the annual sessions of the Chinese People's Political Consultative Conference (CPPCC).
Li, a CPPCC member, said Geely's performance will be much better than the previous year thanks to a strategic transformation last July.
Geely's vehicle sales grew 20 percent from a year earlier in the first two months this year, Li disclosed.
But its overseas sales growth "were almost flat" in the same period because of the global economic downturn, the chairman said.
"The growth is relatively low, but I think it will pick up in the coming months," he said.
Geely has set a sales target of 25 percent growth in the domestic market this year.