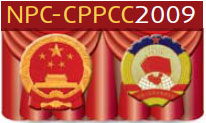 China "must not slacken efforts" to promote export amid a sharp decline in external demand and growing international trade protectionism, a government work report said, pledging reinforced government support.
"We will continue to diversify our export markets and compete on quality, enhance traditional export markets, and energetically open up new markets," said the report to be delivered by Premier Wen Jiabao at the annual parliament session Thursday morning.
The government is to take a series of measures to relieve the difficulties of exporters and to ensure steady growth in foreign trade, said the report distributed to media before the session.
Related readings:


 Expert: China should further increase export tax rebates


 China's textile, clothing exports growth slows down


 China's steel exports drop 5.5% in 2008


 China's export value down 17.5% in Jan
A central government fund for trade development will be increased, eyeing to cultivate brand-name export products and support small and medium-sized enterprises in expanding their international markets, according to the report.
To improve the country's financial services for importing and exporting, the government will expand the coverage of export credit insurance, and encourage financial institutions to develop export credit, the report said.
The government will adjust the prohibited or restricted commodity categories of processing trade, and encourage the relocation of export processing industries from the eastern to the central and western regions, it said.