China should further increase its tax rebates to help exporters in time of the financial crisis, according to an economist with the Development Research Center of the State Council.
Zhang Xiaoji told China Daily on the sidelines of the annual session of the Chinese People's Political Consultative Conference (CPPCC) the recent increases of export tax rebates are not enough. They are not as strong as the measures taken by the government during the 1997 Asian financial crisis.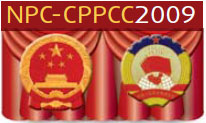 He said the export sector contributed about 20 percent of the total revenue of the country's manufacturing industry and provides 70 million to 80 million jobs. A 10 percent drop in export can reduce up to 10 million jobs.
Xu Xiaolan, another member of the CPPCC, also submitted a proposal for raising tax rebates on all export of manufacturing products.