Dalian Wanda Group, one of the country's largest private property developers, plans to spend 20 billion yuan ($2.92 billion) to boost its landbank this year, a company executive said on Wednesday.
"That will be our largest annual investment since establishment, and we believe the economy and property market will warm up before the end of this year," Wang Jianlin, Wanda's chairman, told China Daily on the sidelines of the annual session of the Chinese People's Political Consultative Conference (CPPCC).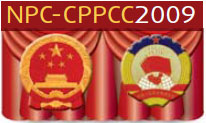 The company has spent 11 billion yuan in grabbing five pieces of land in cities including Shijiazhuang, Tangshan, Tianjin, Hefei and Hohehot since the fourth quarter of last year, despite the sluggish property market.
"We have no plan to float shares this year," Wang added. "But we will consider a listing next year."
He expects Wanda's sales income to hit 30 billion yuan this year, up 50 percent over 2008.