The worldwide economic recession and the slowing Chinese economy are having a "negative" impact on New Oriental Education & Technology Group Inc, the largest private educational service provider in China, founder and president Michael Yu said on Wednesday.
Enrollment at the school fell by as much as 20 percent, Yu told China Daily on the sidelines of the annual session of the Chinese People's Political Consultative Conference (CPPCC).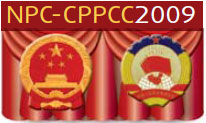 NASDAQ-listed New Oriental has over 4.5 million students, including 1.3 million enrolled in fiscal year 2008, according to the company's website.
Last month New Oriental revised the outlook for the third fiscal quarter 2009 due to the economic downturn. It expected quarterly net revenues to be in the range of $62.0 million to $65.0 million, compared to the previously forecast range of $65.5 million to $67.5 million. The latest revisions represented a year-on-year growth of 28.9 percent to 35.1 percent, respectively.