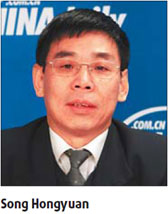 Chinese farmers have met mounting difficulties in increasing their disposable income this year mainly due to growing factory closures and fewer job opportunities, a leading agricultural expert warned yesterday.
The expert added that the continuing decline of grain prices since September may also hurt farmers' income this year despite the government's vow to increase the crops' minimum purchase prices.
"With less job opportunities for migrant workers in the cities, income of farmers as a whole will suffer a sizable loss," said Song Hongyuan, director of the Research Center for the Rural Economy in the Ministry of Agriculture during an exclusive interview with China Daily.
Related readings:


 Land transfer may draw 'heated debate'


 Subsidies for home appliance purchase will spur rural spending


 China grants $2.93b to boost rural consumption


 Taiwan firms invited to join rural home appliance program
Per-capita income of China's rural population grew by 8 percent last year and has witnessed an averaged annual growth of more than 6 percent, or about 400 yuan, over the past five years, said Song.
"It's highly possible that this year's income growth of farmers will be less than last year's," he said.
Income earned by migrant workers contributes to more than half of the income of the entire rural population. Official statistics indicate that China has more than 230 million migrants, and so far more than 10 million are jobless due to the effects of the global financial crisis.
Song said the government will unveil more farm support measures at tomorrow's opening of the annual session of the National People's Congress, including subsidies and training opportunities.
The Ministry of Commerce (MOFCOM) recently said that the government would grant 20 billion yuan in subsidies in 2009 to boost electronic appliance sales in rural areas.
Song's analysis of the rural situation has been echoed by China's highest leadership, which recently said that this year would be "the toughest year" so far this century for the rural economy given falling produce prices and the grim employment situation.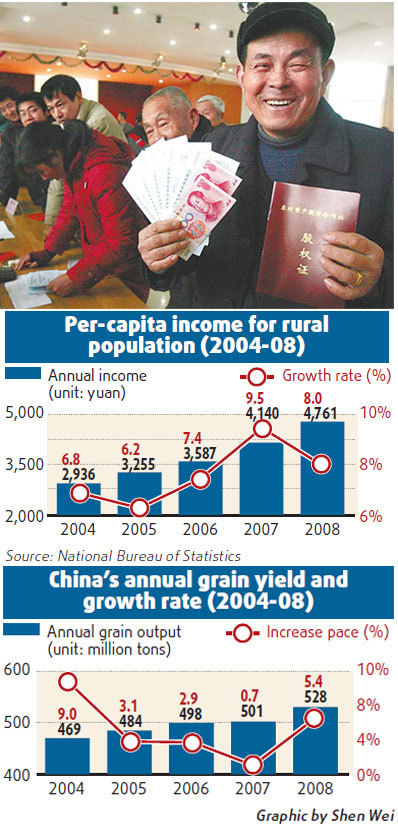 China's grain output in 2009 may not surpass the record high achieved last year because of the worst drought in half a century, said Song.
He said 2009's summer wheat harvest is unlikely to be good because 40 percent of the nation's total wheat land is heavily affected by the drought. But he said it is too early to predict the autumn harvest, which makes up the lion's share of the country's total grain yield.
China saw bumper harvests for five straight years, the grain yield in 2008 reached 528.5 million tons and the annual growth rate was 5.4 percent.
The China Meteorological Administration (CMA) forecast that there was still uncertainty over the weather in spring. "The weather can become worse than we think, and we must be fully prepared," CMA's Chief Zheng Guoguang said in February.
So far, the government has provided 86.7 billion yuan in subsidies to farmers in drought-hit provinces and increased this year's minimum purchasing price of wheat by 0.11 yuan per kg to raise farmers' income.
"Hopefully, all the measures will work to minimize the damages brought by abnormal weather," said Song.
For more on Song's insight, visit www.chinadaily.com.cn