The Revolutionary Committee of the Chinese Kuomintang suggested that 30 to 40 percent of State-owned shares traded on the stock market in the future should be put into the National Social Security Fund (SSF), the largest State-run pension fund in China, and used for social security in rural areas.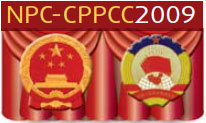 Around 2.6 trillion to 4.3 trillion State-owned shares will be unlocked to trade in the stock market in the next two and a half years.
"With 30 percent of these shares being put into SSF, 780 billion yuan will be available for social security in the rural areas, which is currently in a fund shortage," the party said on the first day of the 11th National Committee of the Chinese People's Political Consultative Conference.