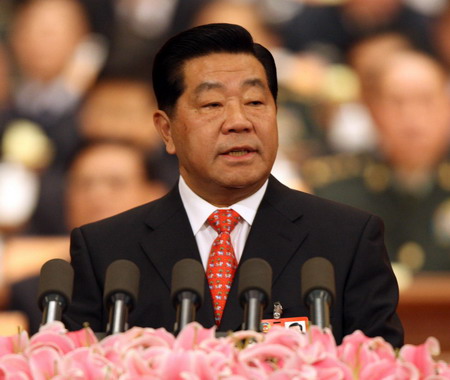 Jia Qinglin, chairman of the Chinese People's Political Consultative Conference (CPPCC), delivers a speech during the opening ceremony of the annual CPPCC session in Beijing, March 3, 2009.
[Xinhua]
China's top political advisor Jia Qinglin on Tuesday urged deputies from the private sector not to lay off workers to help maintain social stability amid the global economic turmoil.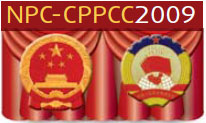 Jia, Chairman of the 11th National Committee of the Chinese People's Political Consultative Conference (CPPCC), said this in a report delivered at the second session of the 11th CPPCC National Committee, which convened Tuesday at the Great Hall of the People in downtown Beijing.
"National Committee members from the non-public sector of the economy should be encouraged to shoulder their share of social responsibilities," according to the Report on the Work of the Standing Committee of the CPPCC National Committee.
"Advisors should try their best to refrain from laying off any employees, cutting salaries or withholding wages, so as to create a harmonious labor relationship," said Jia.
According to media reports, the ongoing CPPCC session and upcoming session of the National People's Congress, China's top legislature, will have deputies and advisors from more than 150 listed companies.
These companies account for about 10 percent of the firms listed on the yuan-denominated market. They include executives of large financial companies such as China Life Insurance (Group) Company and Ping An Insurance (Group) Company of China.