Street dance moves to a new beat
Share - WeChat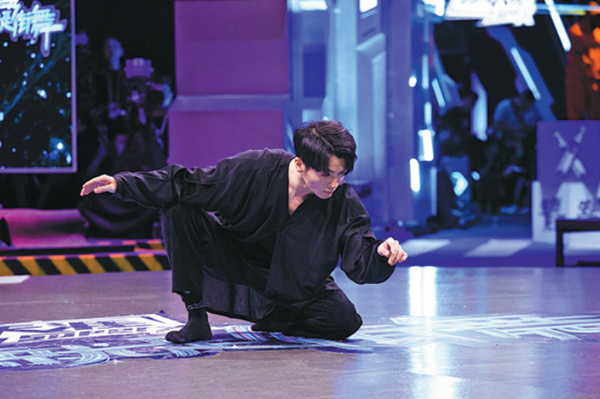 Up to the challenge
The idea of turning Street Dance of China into an international affair occurred to Lu during the previous season of the show, but the busy schedule of the dancers made the plan difficult to organize.
However, after the pandemic came, many major world-class street dance events were called off. For example, Juste Debout, an annual French competition, which is generally considered to be the world's foremost arena for street dance, was canceled in 2020 and 2021.
Consequently, in the absence of such events, Street Dance of China rose to prominence, becoming a worldwide attraction and ushering famous dancers from afar. All of the overseas dancers have stayed in China throughout the recording of the show.
The French dancer Rochka Noel, simply known by his first name, came second in the hip-hop category in 2019's Juste Debout.
" (Because of COVID-19), the street culture stopped in Europe," Rochka tells China Daily. "We had to close dance schools. We could not compete. It was pretty hard to live with that for a year and a half."
Rochka taught hip-hop dance classes on the internet, but he says dancers still need physical contact.
"So, when I came (to Street Dance of China), that was freedom for me. I could finally do what I love and meet people who also do what I love," he says. "I finally had a chance to perform onstage with other dancers from all over the planet.
"It's a unique situation, and it's only happening in China."
Vietnamese dancer Nguyen Vu Minh Tuan, better known by his stage name MT-POP, is a specialist in "popping", a technique that originated in California and requires precise muscle control. He has established his popularity in the past few years in the international arena, but new challenges on the show still encourage him to keep an inclusive and creative mind.
"For me, after this, I think my dance will open more (to various styles)," he says. "Street dance culture and styles of other dances, like jazz or contemporary, can collaborate and create something different and beautiful.
"It's not about winning and losing," he adds. Joining the competition, to him, is also a way to bolster his psychological strength, as his parents were diagnosed with COVID-19 while he was recording the show in Shanghai.
Participating in the competition, MT-POP says, gave him the courage to get through the tough time and keep going, and he also vowed to spare no effort for his supporters back in his home country.
On Douban, a popular film and TV review platform, this latest season has, so far, achieved a rating of 8.7 points out of total 10, making it one of the most acclaimed dance-centric Chinese variety shows.
With a diverse cast, the show has found popularity far beyond China. This current season of the show is available worldwide on YouTube, with subtitles in 11 other languages, including English, Arabic, Japanese and Korean. Relevant hashtags soon made their way into the trending topics lists on Twitter in countries including Thailand and the Philippines following its release. By Oct 8, this season had attracted over 44.67 million online views worldwide.
Most Popular