Business booms in revitalized temple area
Share - WeChat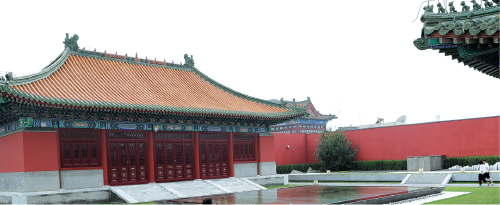 Wang, the Xinlongfu Cultural Investment Co chairman, said that although the temple itself has not been protected and restored, the traditional culture it inherited from the Ming Dynasty (1368-1644) has been preserved in an alternative way.
'Cultural Golden Triangle'
Last year, the Beijing municipal government included the renovation and upgrading of the Longfu Temple area in its medium- and long-term plan (2019-35) as part of the goal to build a national cultural center in the capital.
Located in the city's core area, the Longfu Temple urban renewal project is situated some 1.5 km east of the Palace Museum and 1.5 km north of Wangfujing pedestrian shopping street.
Wang said that in the future the area would form a "Cultural Golden Triangle" with the Palace Museum and Wangfujing.
"Within a 2-km radius, tourists from home and abroad will be able to enjoy the traditional style of the Forbidden City and the international consumption experience of Wangfujing," he said. "Meanwhile, a 'cultural feast' can be experienced in the Longfu Temple area."
However, Zhao, the hutong resident, has some concerns about future visitor flow in the flourishing business district.
"I think that no matter how popular it is, it may not thrive to the extent that the Longfu Building did in the past," he said.
Most Popular