Business booms in revitalized temple area
Share - WeChat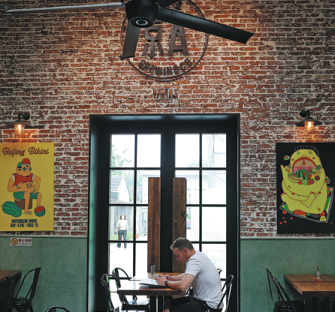 She added that the taproom's name, Jing-A, stems from the first batch of vehicle license plates issued in Beijing, and means "local", "old brand" or "limited".
"Our founders adopted the principle of using the best local ingredients to make creative beers in a fun and playful way," Cai said.
Alex Acker, the co-founder of Jing-A Taproom, who is from the United States, has lived in China for more than 20 years and speaks fluent Chinese, was among the first group of traders to bring craft beer culture to Beijing.
He and his business partner Kris Li opened their first craft beer bar in Sanlitun in 2012. The popularity of the pub among foreigners quickly helped attract Chinese customers eager to try a new experience.
Cai said: "We'd been longing to open a place nestling between hutong for a long time, but it's not that easy to find a suitable location, especially for a bar. Opening a taproom in this area is the only way we can make our dream come true in Beijing."
Han Luqi, a 27-year-old coffee maker, who was born and raised in Beijing, and whose grandmother lived in the hutong near the Longfu Building, has similar feelings.
"In my childhood, my mother often took me to the hutong in search of delicious food," she said. "A food street was located along Longfu Temple street, where nearly all the traditional Beijing snacks were sold."
Han and her boyfriend Wang Xu, also a Beijing native, owned and operated a coffee house near the Lama Temple for more than 10 years.
"The coffee store near the temple closed at the end of 2017. When I learned that the Longfu Building was being renovated and was attracting investment, I had the idea of opening a trendy coffee house near the temple area," Han said.
The couple has worked hard to make the coffee store a "bridge" connecting past and present, fitting it out with halved cement pipes and cement stairs.
Han put a lot of thought into the layout. When visitors enter the premises and sit facing the door, on the left they can see the newly established Longfu Cultural and Creative Center. On the right lies the ancient hutong, which dates back more than 600 years and is home to siheyuan (traditional courtyard residences).
Every night after 7 pm, the coffee store becomes a pub serving cocktails and other drinks. Popular music is played and Han makes special coffee tailored to the season.
Clients range from teenagers to middle-aged patrons, and popular television shows are sometimes filmed at the venue.
In April, Han and Wang opened a new noodle store near the coffee shop. Named Shi Yi Cun (when combined, the character means "temple" in Chinese), the store offers a traditional taste of Beijing.
"I chose noodles with bean paste and those with gravy, which I usually like to eat at home, and invited my mother to be the chef at our restaurant to provide authentic Beijing flavors for customers," Han said.
She added that even though time-honored cuisine near the Longfu Temple area has vanished, she hopes to use traditional Beijing food to trigger nostalgia among locals.
Most Popular