Business booms in revitalized temple area
Share - WeChat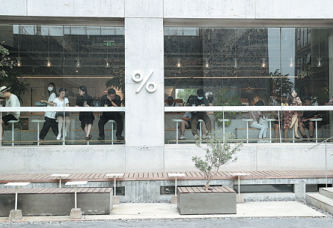 The nonprofit venue was founded by Lin and his wife Lei Wanying at Beijing's 798 Art Zone in 2014. In recent years, the couple sought to launch a new art museum in the capital.
Lin, who is in his early 30s, said he chose a location near the Longfu Temple site for the new M Woods Art Space, as compared with other business districts, this area has a sense of tradition and history, which could complement the institution's cultural identity.
"We were a little lazy in choosing a place where our predecessors have crafted a story for us, and which people now want to visit," Lin said.
Since it opened at the end of August 2019, artworks by world-renowned figures, including Ryuichi Sakamoto, David Hockney and Giorgio Morandi, have been exhibited at the new venue.
"Our goal is to present artwork by Chinese or international artists-often those who have rarely or never had a solo exhibition in Beijing," Lin said, adding that in addition to art exhibitions, it is planned to establish an art community in the Longfu Temple area.
"In August, we will open a music pub that can accommodate 300 to 400 people on the basement floor at the new M Woods Art Space. This will be a place for visitors to further enjoy themselves after exhibitions," Lin said.
"We hope the art community can form connections with the Palace Museum and the National Art Museum of China in the near future."
Soul of Beijing
Jing-A Taproom, a restaurant and bar in the Longfu Temple area, attracts most of its customers at night. This venue is known for its drinks, which include Paihuanggua (smashed cucumber), Suanmeitang (a traditional sour plum drink) and craft beers Fifth Ring Road and Beijing Bikini Watermelon Wheat.
The pub, renovated from a warehouse, is decorated in post-industrial style. With high ceilings and skylights, it features a huge U-shaped bar, with artwork adorning the walls.
Cai Haiying, retail manager of Jing-A Taproom, said, "Our customers chat with one another while having a drink after visiting the National Art Museum," adding that the venue is trying to create an atmosphere resembling the hustle and bustle of the Longfu Temple fair.
"Hutong are the soul of Beijing. We have attempted to bring nightlife consumption culture to the Longfu Temple area. Consumers in Beijing want to find more new and interesting places, not just in the Sanlitun area."
Most Popular