Development of Quanzhou and its growth into a hub of maritime trade
Share - WeChat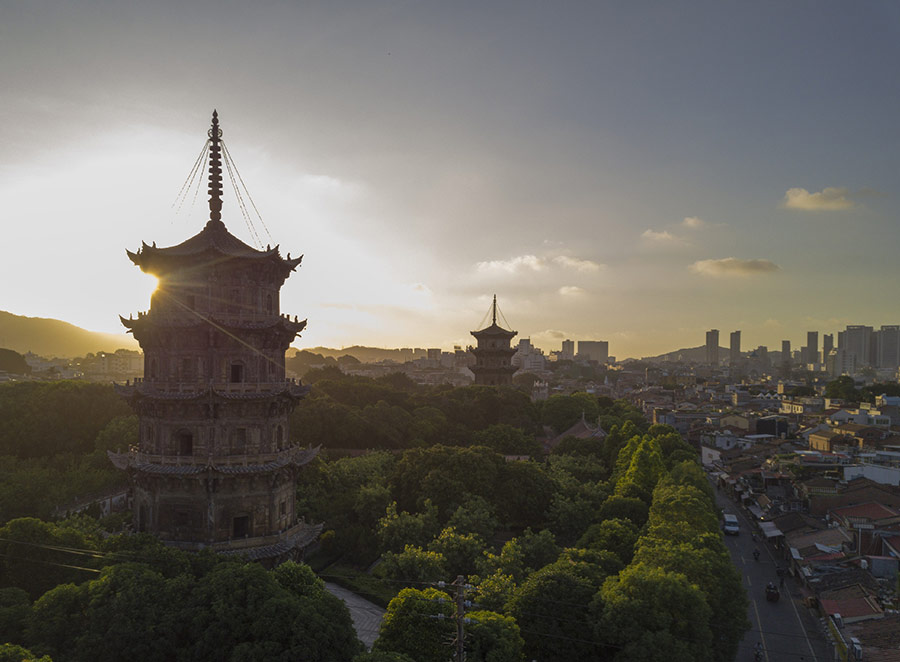 ・ Third to sixth centuries
Due to continuous war in North China, people of the Jin Dynasty (265-420) move southward to what is present-day Quanzhou and settle down along the river, naming it Jinjiang River in tribute to their homeland.
・ Between 618 and 626
Two disciples of Muhammad introduce Islam to Quanzhou. They are buried there after death. The place is known as the "graveyard of Muslim saints".
・ 686
Kaiyuan Temple, the most important Buddhist temple in the city, is constructed, adopting its current name in 738.
・ 700
The seat of Quanzhou government moves to the historical quarter of the present-day city.
・ Between 946 and 962
Pottery, bronze and ironware are exported in exchange for gold and other treasures. The city is also expanded and erythrinat rees (known as zayton in local dialect) are widely planted. Some refer to Quanzhou as Zayton as a result.
・ 1009
Ashab Mosque (or the Mosque of Holy Friends), which is known as Qingjing Mosque today, is built by Arab Muslims.
・ 1087
The royal court of the Song Dynasty (960-1279) establishes the Maritime Trade Office in Quanzhou to oversee trade affairs.
・ 1130
The Southern Clan Office, which oversees the issues relevant to the royal family, is relocated to Quanzhou.
・ 1174
The earliest known wind-praying ritual is held at Jiuri Mountain.
・ 1206
Documents show that Quanzhou maintained trade relations with 31 countries and regions around the world.
・ 1225
Documents show that Quanzhou enjoyed communication with 58 countries and regions.
・ 1291
Venetian traveler Marco Polo escorts Yuan Dynasty (1271-1368) princess Kokachin to marry the Prince of Ilkhanate on a voyage which starts from Quanzhou.
・ 1346
Moroccan traveler Ibn Battuta hails Quanzhou as one of the largest ports in the world.
・ 1349
Records show that Quanzhou maintained trade relations with nearly 100 countries and regions.
・ 1370
Ming Dynasty (1368-1644) royal court restricts Quanzhou's trade with present-day Okinawa, marking the decline of Quanzhou's status as a trading hub.
SOURCE: QUANZHOU MARITIME MUSEUM