Rural dwellings stand as proud legacies in Fujian
By WANG HAO,CAO DESHENG and HU MEIDONG in Yongding, Fujian | CHINA DAILY | Updated: 2021-07-15 07:53




Share - WeChat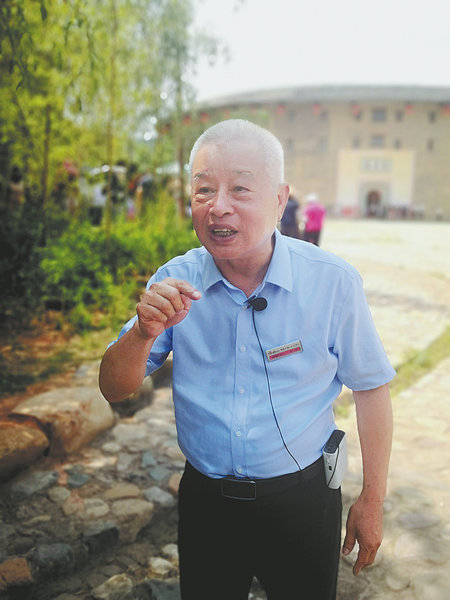 Today, the structures that once housed hundreds of people are now home only to two dozen permanent residents, most of them elderly.
For the locals who grew up in tulou, the structures are just normal houses, but through his conversations with visitors, Lin came to realize that each of the structures is an extraordinary piece of architecture.
"What surprised me most is that people were really interested in our communal lifestyle as well as our Hakka culture. They thought it incredible that so many people could live together in harmony," he said.
As tourist numbers soared, Lin sensed a business opportunity. He gave up farming to enter the tourism industry in the late 1990s, working as a guide for visitors.
Lin is proud to tell stories about the tulou. Visitors are impressed by his passionate explanations of the buildings. He makes notes of visitors' comments so that he can improve his skills as a tour guide. After years of making these notes, he has put together a series of tour commentaries that are used by other guides in Yongding.
He tells visitors that, according to an old story, satellite images of tulou once worried some countries, as they thought the giant mushroom-like structures resembled nuclear shelters, and feared they were the site of a Chinese missile base. "This story still raises a laugh among visitors," Lin said.
The tourism boom has brought drastic changes to him and his family in all aspects of life, Lin said, adding that the legal protection and proper development of cultural and architectural legacy has been guided by the local government.
When President Xi Jinping worked in Fujian in various posts from 1985 to 2002, he attached great importance to heritage protection. As urbanization developed in the 1990s, some areas of the province were found to have placed economic growth first, without considering the conservation of historical and cultural relics, along with environmental protection.
In 2002, when he was governor of Fujian, Xi wrote an article about protecting ancient buildings in Fuzhou, the provincial capital, in which he said properly safeguarding such structures and relics serves to preserve the history and culture of a city.
He underlined the need for local officials to attach equal importance to environmental protection and to safeguarding relics and economic development, saying, "Developing the economy is a leader's important responsibility, so is protecting ancient buildings, traditional streets and lanes, and cultural relics. Both are equally important."
Since he became general secretary of the Communist Party of China Central Committee in 2012, Xi has issued numerous instructions on protecting cultural and historical relics in order to retain cultural roots and safeguard the nation's soul.
He also considers the proper development and use of cultural and historical legacies to be important. "We need to bring all collections in our museums, all heritage structures across our lands and all records in our classics to life," Xi said in a speech while visiting the UNESCO headquarters in Paris in March, 2014.
In July, 2018, Xi presided over the third meeting of the Central Committee for Deepening Overall Reform, at which a guideline on strengthening reform for the protection and use of cultural relics was approved.